Boehner: House will compromise on debt limit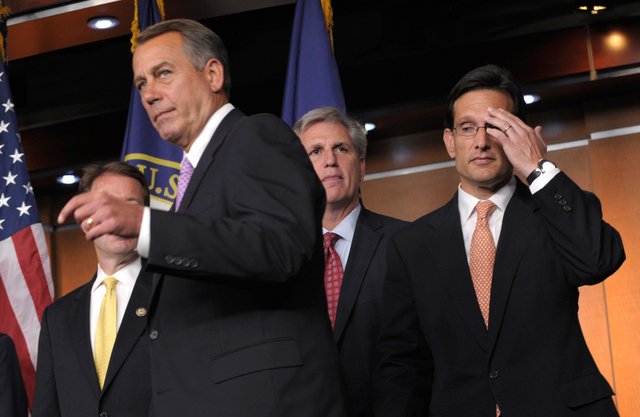 By Andrew Taylor, Bloomberg News
House Speaker John Boehner predicted Thursday that a majority of House Republicans will end up supporting some kind of compromise as the Senate began debating a House-passed effort to tie an increase in the debt ceiling to conservative demands for a balanced budget amendment to the Constitution.
Majority Leader Harry Reid, D-Nev., called up the measure to placate Republicans demanding a vote. But he said it "doesn't have one chance in a million of passing the Senate."
At a news conference, Boehner told reporters, "Frankly, I think it would be irresponsible on behalf of the Congress and the president not to be looking at back-up strategies for how to solve this problem."
"At the end of the day, we have a responsibility to act," the Ohio Republican said.
Asked whether GOP lawmakers supporting the House's "cut, cap and balance" debt limit measure would be unwilling to ultimately compromise, Boehner said, "I'm sure we've got some members who believe that, but I do not believe that would be anywhere close to the majority."
Meanwhile, White House spokesman Jay Carney reported little progress from private meetings President Barack Obama held Wednesday with Boehner and House Majority Leader Eric Cantor, and separately with congressional Democratic leaders.
"There is no deal, we are not close to a deal," Carney said.
"There is no progress to report but we continue to work on getting the most significant deficit reduction package possible because we think it's the right thing for the economy," he said.
Boehner's talk of possible accommodation in the protracted political stalemate over federal budget policy came as the Senate took up the tea party-backed House legislation Thursday. It ties an increase in the government's borrowing authority to a series of conservative demands, including immediate spending cuts and a constitutional balanced budget amendment.
To read more, visit:Â http://www.businessweek.com/ap/financialnews/D9OK77382.htm