Boehner makes case to religious broadcasters for spending cuts in avoiding government shutdown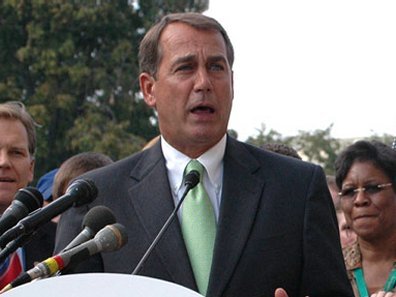 By ERIK SCHELZIG | ASSOCIATED PRESS
Boehner said Republicans will work to prevent a shutdown of the federal government, but not without spending cuts.
"Perhaps the activists of unrestrained government think there's some compromise to be had that allows their spending binge to survive," the Ohio Republican said in a 25-minute speech at the National Religious Broadcasters convention in Nashville. "Ladies and gentlemen, know this: We will do no such thing."
Lawmakers must approve a new spending plan before the current budget expires Friday. Both Republicans and Democrats have sought to blame each other about the prospects of the first government shutdown since 1996.
"We have a moral responsibility to address the problems we face," Boehner said. "That means working together to cut spending and rein in government _ not shutting it down."
Boehner said Democrats should agree to what he called "reasonable spending cuts" of $4 billion to keep the federal government running through March 18. That move comes because the leadership of the Democratic-controlled Senate opposes a House proposal to slash $61 billion in spending through the end of September.
"They label as 'pain' even our most modest efforts to restore a moral fiscal policy," Boehner said. "What will truly cause pain and suffering is the status quo _ doing nothing _ and leaving our debt on its unsustainable and immoral path."
To read more, visit: http://www.newser.com/article/d9llgsho0/boehner-makes-case-to-religious-broadcasters-for-spending-cuts-in-avoiding-government-shutdown.html