Boehner-McConnell retreat in Obama amnesty fight panics conservatives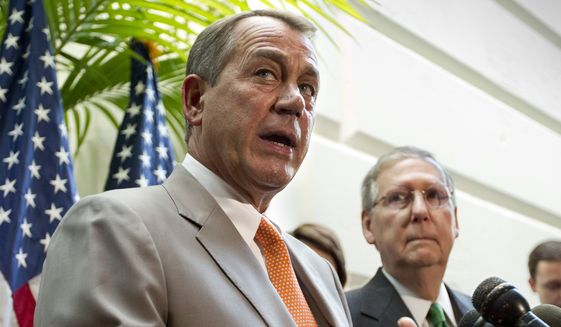 Conservatives saw it as raising a white flag when Republican congressional leaders pledged not to withhold funding for the Department of Homeland Security in the fight over President Obama's deportation amnesty, stoking fears that for the next two years House Speaker John A. Boehner and Senate Majority Leader Mitch McConnell will consistently surrender.
For the Republican base, Mr. Obama's unilateral move to grant legal status and work permits for up to 5 million illegal immigrants was an unlawful power grab that created a constitutional crisis.
If Republican leaders were not willing to use Congress' power of the purse — the most potent weapon possessed by lawmakers to restrict a president — to stop a brazen unconstitutional act, conservatives reasoned, would the GOP-controlled Congress ever go to the mat to fight Mr. Obama?