BOEHNER PLANS REPEAL VOTE — IN WEEKS…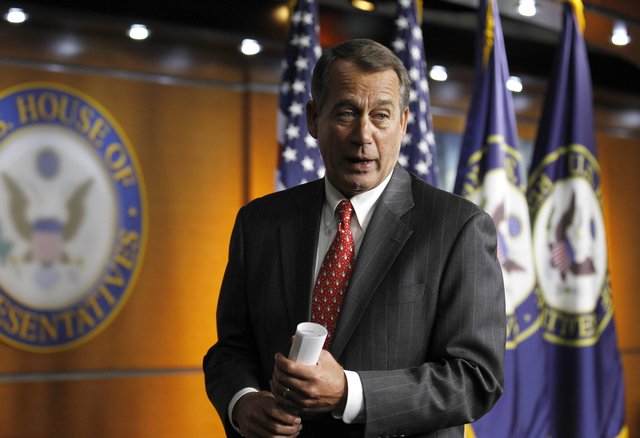 By SEWELL CHAN, NY Times
WASHINGTON – Congressional Republicans vowed Sunday to use their new majority in the House and their stronger position in the Senate to roll back the Obama administration's health care overhaul and press for sharp, rapid cuts in spending.
"As part of our pledge, we said that we would bring up a vote to repeal health care early," Representative Fred Upton of Michigan, the incoming chairman of the House Energy and Commerce Committee, said on "Fox News Sunday." He added, "That will happen before the president's State of the Union address," expected in late January.
A flat-out repeal of the health care law would face a steep hurdle in the Senate, where Democrats will cling to a slim majority, but Mr. Upton said that House action would not be merely symbolic.
"If we pass this bill with a sizable vote, and I think that we will, it will put enormous pressure on the Senate to do perhaps the same thing," he said. "But then, after that, we're going to go after this bill piece by piece."
Mr. Upton also said the House could use the Congressional Review Act to roll back theEnvironmental Protection Agency's sweeping regulations of climate-altering gases from factories and power plants. The first phase of the regulations began Sunday. SenatorLindsey Graham, Republican of South Carolina, said on NBC's "Meet the Press" that the fight over health care would most likely be waged in Congress by cutting financing for implementation, and in state capitals by fighting the law's new requirements.
"I think you're going to see the fight on Obamacare across the board in the House and the Senate to try to de-fund the Obamacare bill and to start over," Mr. Graham said, adding that he was working with Senator John Barrasso, a Wyoming Republican, on legislation to allow states to opt out of the requirement that individuals obtain health insurance and of the expansion of Medicaid, the government health insurance program for the poor.
Going into the spring, Congress will face two major spending-related fights: a vote to extend a continuing resolution to finance the operations of the government, and a vote to raise the ceiling on the public debt. Tea Party activists have vowed to use the votes to make a point about the need for fiscal discipline.
"The only way that I would ever support raising the debt limit if we also talk about budgetary controls on the federal government, capping its spending, how do we deal with the Social Security, Medicare and Medicaid problems, because they cannot continue to run on auto-pilot," said Allen West, who will take office this week as the first black Republican congressman from Florida since Reconstruction.
A new Republican senator from Utah, Mike Lee, said on the same program: "Congress has long abused the authority to incur debt in the name of the United States. And we need to restrict that through adopting a balanced budget amendment."
To read more, visit: http://www.nytimes.com/2011/01/03/us/politics/03repubs.html