Brett Kavanaugh's views on executive power take center stage in confirmation fight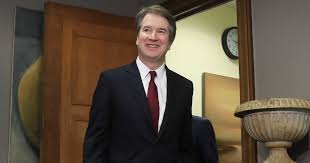 As Democratic senators continue to push for the release of more than a million pages related to Supreme Court nominee Brett Kavanaugh, the judge's views on executive power have taken center stage in an already fiery confirmation battle.
Kavanaugh's views on executive power have emerged as a flashpoint in the battle over his nomination, with Senate Democrats and the judge's opponents questioning whether Kavanaugh would rule in cases before the Supreme Court in a manner that protects the president who appointed him to the bench.
The concerns over his views on executive power are amplified by the investigation led by special counsel Robert Mueller, who for the past year has been examining Russian meddling in the 2016 election and whether Trump obstructed justice.
"Question of the day: If Kavanaugh would have let Nixon off the hook, what is he willing to do for President Trump?" Senate Minority Leader Chuck Schumer, D-N.Y., asked Monday.