Business Bid to Counter Tea Party Fizzles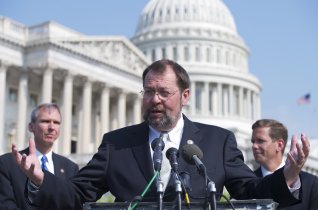 Business-friendly GOP organizers who launched a new crop of super PACs to counter the tea party have failed to cash in, recent campaign disclosures show, leaving them badly outraised on both the right and the left.
Close to a dozen super PACs backed by the GOP's business wing, including those with ties to Republican leaders on Capitol Hill, pulled in just under $10 million in 2013. That's less than half the $21 million collected by a handful of tea party and anti-tax groups, including the Senate Conservatives Fund and the Club for Growth.
It's also less than a third of the $31.3 million collected last year by the top four Democrat-friendly super PACs, including those backing House and Senate candidates. The "Main Street" Republicans' low super PAC receipts reflect donor burnout, big money's migration into unreported channels and continued strife over who defines the GOP.
"While I'm happy with where we are, I think we can do better," said former Ohio Rep. Steven C. LaTourette, whose Defending Main Street super PAC raised $845,000 last year, more than half of it from labor unions. "And I will be disappointed if we are not able to turn it on by the end of March."
LaTourette cited donors' preference for giving to his group's 501(c)(4) nonprofit arm, known as Main Street Advocacy, which is exempt from disclosure rules and raised $1.1 million last year. He also blamed disenchantment among GOP contributors, who poured millions into unrestricted super PACs in 2012 with unimpressive results.