Cain backs Gingrich's presidential bid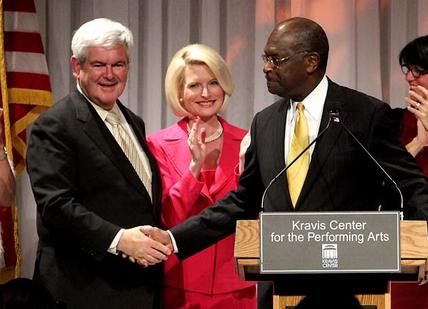 By JANE MUSGRAVE AND ANDREW ABRAMSON, Palm Beach Post
WEST PALM BEACH — Herman Cain, once considered the preferred choice of conservatives in the GOP presidential race, endorsed Newt Gingrich at the Kravis Center Saturday night.
Cain bowed out of the race in December after several allegations of sexual harassment and an affair, leaving Gingrich as the conservatives' top choice to battle Mitt Romney for the nomination.
Cain's surprise appearance at the Lincoln Day Dinner came as Romney has overtaken Gingrich in the polls just three days before Florida's crucial primary.
Cain called Gingrich "a patriot" with "bold ideas," and said he will be both active and vocal in Gingrich's campaign.
"Newt embraces 9-9-9; we talked about it," Cain told The Palm Beach Post of his signature tax reform policy. "He doesn't have to be out there carrying the flag; that's my job. The fact is that I'm going to be a key player on his economic growth and job advisory panel."
Gingrich referred to "Team of Rivals," the book about Abraham Lincoln's presidency and Lincoln's ability to bring rivals into his camp. Gingrich has now secured the endorsement of Cain and former GOP presidential candidate Rick Perry.
"I knew (Cain's) central passion was jobs, economic growth and tax reform," Gingrich said.
Earlier Saturday, Gingrich appeared at the Martin County Republican Party's annual Lincoln Day brunch.
To read more, visit: Â http://www.palmbeachpost.com/news/gingrich-garners-cain-endorsement-at-kravis-center-gop-2132701.html