Cain plows ahead but says yet again: reassessing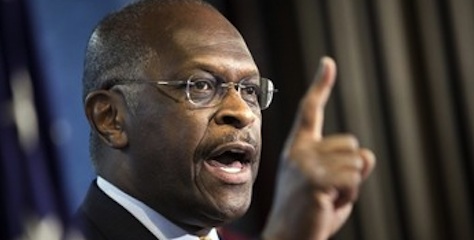 By Dan Sewell and Shannon McCaffrey, Associated Press
DAYTON, Ohio—His campaign's survival in question, Herman Cain plowed ahead Wednesday in an effort to move past a woman's allegation that they had a longtime affair. But he acknowledged the toll was rising and said he would decide by next week whether to drop out of the Republican race.
Publicly, there were no signs that the former pizza company executive was calling it quits in his campaign for the presidential nomination. In fact, it was just the opposite: Aides were moving ahead with plans for events in New Hampshire, Tennessee, South Carolina and Georgia and prepared to launch a fresh round of TV ads in Iowa.
And Cain himself, on a one-day bus tour of Ohio, insisted he was seeing "a groundswell of positive support" after the latest allegation threatening his campaign. Still, he acknowledged "we are re-assessing and we are re-evaluating" in light of the woman's account, which followed accusations of sexual harassment by other women in recent weeks.
In an interview on Fox News late Wednesday, Cain said the controversy has taken an "emotional toll" on his wife, Gloria.
"I've got to think about my family first, especially my wife," Cain said. "This is why we are reassessing."
He said he would exit the race if the price proved too high and he would make a decision by the middle of next week at the latest.
At his campaign stops, he renewed what has become a familiar defense: that he is the victim of attacks by liberals and the establishment, who are threatened by his outsider appeal.
"They want you to believe that with another character assassination on me that I will drop out," a defiant Cain told a crowd of about 200 in Dayton. The boisterous crowd greeted him with shouts of "no!" and "boo!"
"One of the reasons they are trying to shoot me down and tear me down is the strength of my message that resonates with the American people," he said.