Cain revs up mainstream conservatives, rises in poll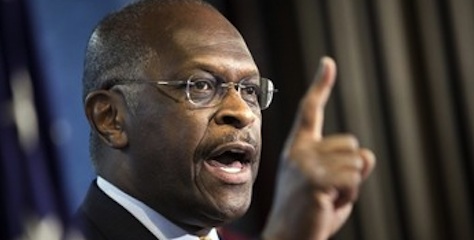 By Errin Haines-Associated Press
ATLANTA — Bolstered by support from his loyal radio talk-show audience and tea party backers, businessman Herman Cain has revved up mainstream conservatives, rising recently to third place in a poll of voters in Iowa, the leadoff caucus state.
In his pursuit of the Republican presidential nomination, Mr. Cain's views on the economy and his fiery delivery have resonated with some in theGOP. His campaign has also been marked by controversy, including his comment that he would not want a Muslim bent on killing Americans in his administration. Last week, Mr. Cain accused comedian Jon Stewart of disliking him because he is an "American black conservative."
Already losing some of his cachet to tea party favorite Michele Bachmann, Mr. Cain, the lone black GOP candidate, is trying to win over a party that hasn't had a black nominee. Sidestepping race as an issue in his campaign may have helped him gain momentum in recent weeks, but whether he can turn vigor into votes will depend largely on voters' ability to look past his skin color and perceive him as a serious candidate.
"He appeals to people because he doesn't talk about race," said South Carolina Republican strategist Chip Felkel. "I think that too often, if anyone does go into that discussion, it's then used by other people to criticize them. I don't think that needs to be part of his narrative. He's a business person. He's an American."
Mr. Cain has been on a remarkable trajectory since entering the race more than a month ago, when a crowd of 15,000 stormed a downtown Atlanta park to cheer him on at his campaign announcement. He was received well at the Republican Leadership Conference last month in New Orleans and drew nearly 100 in Greenville, S.C., for a discussion of his economic plan.
On Saturday, his campaign released his first campaign-finance filing, showing a total of $2.5 million raised so far. Spokeswoman Ellen Carmichael said the total includes more than 27,000 nationwide online donations. Mr. Cain did put some of his own money in, but Ms. Carmichael described it as "only a fraction" of the total and "modest seed money."
His narrative — outlined in a patriotic, four-minute video that winds across rolling hills and pastures and ends in a boardroom against the backdrop of the American flag — is that of a no-excuses, no-nonsense fighter who isn't afraid of a challenge. On the stump, he offers simplified stances on complex issues like national defense, the federal income tax and why he thinks America should return to the gold standard. He has been compared to Republican heroes such as Ronald Reagan.
"He's fresh, he's outspoken," said Debbie Dooley, head of the Georgia Tea Party Patriots. "If they hear him speak, he usually wins them over. With him, what you see is what you get. People like that."
Mr. Cain's story of uplift is not without hints of his heritage. In a campaign video, the great-great-grandson of slaves recalls his hardscrabble beginnings in the Jim Crow South, where his father worked three jobs to buy a house and stressed the importance of education to Mr. Cain, a graduate of the all-male, historically black Morehouse College.
"He doesn't believe in the whole business of race being a defining factor of anything in this country," said William Boone, a political science professor at Clark Atlanta University, which is predominantly black. "He says, 'If you work hard, you will make it. Look at me.' He believes racism is just one of the many obstacles people face. If he ran any other way, he wouldn't be showing up in the polls."
Mr. Cain, a former pizza company executive, said he became a conservative "when I started to make some money" and dismisses the idea that his views somehow diminish his black identity.
"I have never left the black community," Mr. Cain told the Associated Press, noting he's attended the same black Baptist church for years. "I am a part of the black community. I don't have to do anything special. I just have to tell the truth. That transcends ethnicity."
Recent poll numbers and a flurry of media attention seem to suggest his strategy is working.
To read more, visit:Â http://www.washingtontimes.com/news/2011/jul/3/cain-revs-up-mainstream-conservatives-rises-in-pol/