Carly Fiorina won the 'Happy Hour' debate. By a lot.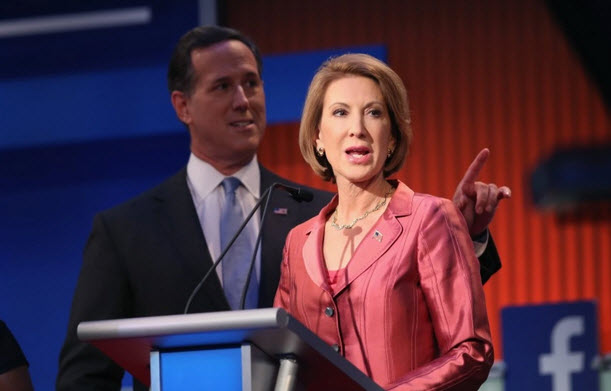 Carly Fiorina was the only woman on stage at the so-called "Happy Hour" debate on Thursday night. She was also the only one of the seven candidates who made clear that she deserves more attention — and a more prime spot in the debates — as the campaign continues.
From the start, Fiorina was poised and confident. She followed a halting and seemingly nervous answer by Texas Gov. Rick Perry with a fluid riff on why she was running and how she was best positioned to beat Hillary Clinton. And, she closed that first answer with this quotable (and good) line: "The highest calling of leadership is to challenge the status quo and unlock the potential of others. We need a leader who will lead the resurgence of this great nation and unlock its potential once again."
That poised and confident answer was a sign of things to come for Fiorina. As people like Perry (still not a good debater), South Carolina Sen. Lindsey Graham (why was he so sad???) and former Pennsylvania Sen. Rick Santorum (angry much?) struggled, Fiorina shined. She repeatedly hit on her knowledge of the world and foreign policy and, smartly for this Republican audience, went after Clinton on Benghazi.