Carson launches bid by knocking 'kingmakers' and politicians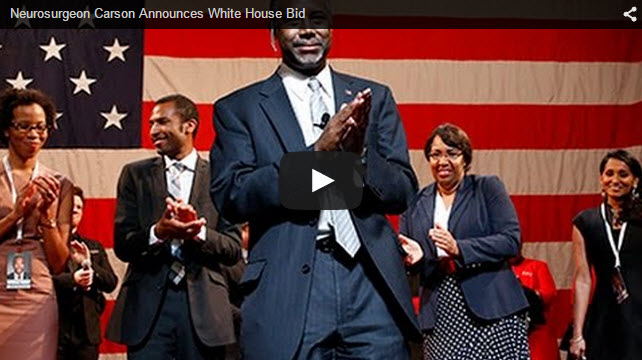 Ben Carson launched his GOP bid for the White House on Monday by ripping members of both parties and insisting he is the true outsider candidate of 2016.
Carson, a conservative favorite who became a right-wing hero by criticizing President Obama's policies at the 2013 National Prayer Breakfast, took shots at Democratic front-runner Hillary Clinton and the GOP establishment favorite, former Florida Gov. Jeb Bush, in a sometimes-meandering speech.
He called on voters to look for alternatives to the well-known candidates the parties are foisting upon them.
"Stop being loyal to a party or to a man, and use your brain," Carson said. "That is the key to us as a nation to becoming successful again, not allowing ourselves to be manipulated by people who think they're the kingmakers and the rulers of thought."
Carson argued Obama's policies have left the country hopeless, and he accused fellow Republicans of being complicit, as the government increases the
federal debt and people drop out of the workforce.
"The role of the government was to respond to the will of the people, but we've allowed the whole thing to be turned upside down," he said. "We've gone way beyond what the Constitution describes and expanded the government based on what the political class wants."