Charles Koch, network send GOP a message: We're happy to back Democrats who share our policy goals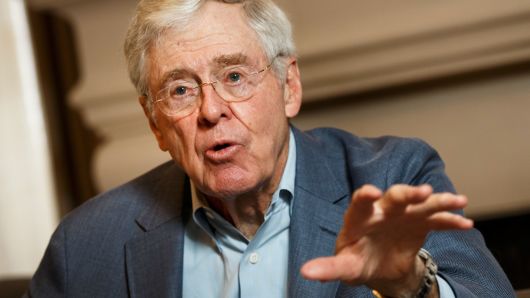 Leaders of the political network financed by billionaire industrialist Charles Koch called on their top donors to back them in a new initiative: Supporting Democratic lawmakers on issues the organization believe reflect its priorities.
During a seminar on Sunday titled "Transforming the network's effectiveness" at the Koch network's summit in Colorado Springs, Emily Seidel, the CEO of Americans for Prosperity, made it clear that working with Democrats will be on the table going forward — especially when it comes to reducing government spending and cutting back on financial regulations.
"I know this is uncomfortable," Seidel told a group of donors and at least two GOP lawmakers who were sitting in the crowd. Koch network officials estimate there are approximately 500 donors attending this year's conference.
"If you are a Democrat and stand up to [Senator] Elizabeth Warren to corral enough votes for financial reform that breaks barriers for community banks and families, you're darn right we will work with you."