Cheese-Eating French Surrender Monkeys' Foreign Minister Accuses U.S. Of Surrender To Iran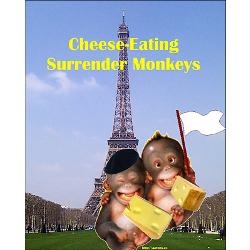 The French delegation in Switzerland felt the outline for a nuclear deal with Iran was "not solid enough," and wanted to improve upon the deal before signing off on the accord, French Foreign Minister Laurent Fabius told Europe 1 radio on Friday.
However, the Iranian delegation threatened at the last minute to leave the talks entirely, which persuaded the American delegation to capitulate to the demands of the Ayatollah's regime, Fabius revealed. The French Foreign Minister said he wanted a strong, comprehensive deal that dissuades "other countries in the Gulf such as Saudi Arabia from embarking on nuclear proliferation."
Fabius's remarks add evidence to Friday's Wall Street Journal report that the delegation led by Secretary of State John Kerry continually conceded to the demand's of the Iranian regime throughout the course of the talks. What started in September of 2013 as a chance to dismantle a vast swath of Iran's nuclear program, turned into America making major concessions as the agreement was finalized, the Wall Street Journal explained.
Iranian negotiators said that they would not dismantle any nuclear sites, nor would they destroy their centrifuges, and they certainly would not shut down their heavy-water reactor and underground sites, senior U.S. officials said of Iran's positioning in the talks. "It's our moon shot," Iranian Deputy Foreign Minister Abbas Araghchi reportedly said, meaning to argue that it is a point of national dignity to keep the nuclear-weapons sites running, akin to America's lunar mission…