Christie, in Washington, Chides Everyone on Debt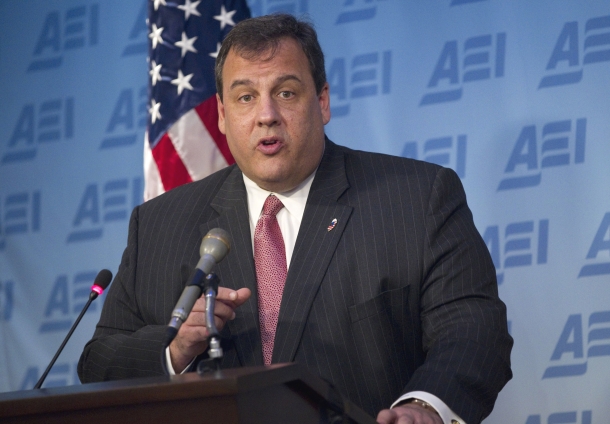 By JEFF ZELENY, The New York Times
WASHINGTON — Gov. Chris Christie of New Jersey arrived here Wednesday, opened with a few jokes to an audience not far from the White House and Capitol Hill and then delivered a bipartisan scolding to President Obama and Republicans in Congress, bluntly suggesting they lack courage to confront the nation's rapidly growing debt burden.
"Our country and our states are weighed down by an albatross of irresponsibility," Mr. Christie said, "that we have foisted upon ourselves as leaders and that you as citizens have permitted us to get away with."
The assessment from Mr. Christie, a first-term Republican, added another voice to the debate unfolding this week about whether leaders are addressing the long-term budget problems with sufficient seriousness and urgency. He joined what has become a steady procession of Republican governors coming to Washington, offering pointed warnings that tiptoeing around Social Security, Medicareand Medicaid spending is no longer acceptable. Gov. Mitch Daniels of Indiana presented a similar admonition a few days ago, arguing that the country's fiscal condition is a new "red menace."
It remained unclear whether this outpouring of tough talk was a sign of being liberated from the burdens of running for president or, perhaps, providing a test run for how that type of message would resonate with what frustrated voters are craving.
Mr. Daniels is pondering a presidential run, and has suggested that if he gets in, he will focus on fiscal issues over social issues that have long animated his party's conservative base. Mr. Christie, a favorite of the Tea Party movement, sought again on Wednesday to quash speculation that he, too, might seek higher office even as his tone, message and evident ambitions made clear that he wants a voice in the national debate.
"The president's not talking about it because he's waiting for the Republicans to talk about it," Mr. Christie said. "Our new bold Republicans that we just sent to the House of Representatives aren't talking about it because they're waiting for him to talk about it."
He added, "Let me suggest to you that what game is being played down here is irresponsible and it's dangerous."
The speech to a crowded room at the American Enterprise Institute, a conservative research organization, offered a new look at the fissures facing Republicans only two months after they assumed their House majority. Mr. Christie called for raising the Social Security retirement age and drastically overhauling Medicare and Medicaid — all choices he said "no one is talking about."
"It's put-up or shut-up time," Mr. Christie said. "If people who I campaigned for don't stand up and do the right thing, the next time they will see me in their district is with my arm around their primary opponent."
The political air in Washington — and in early-voting states across the country — is filled with Republicans who are auditioning to become the party's choice to challenge Mr. Obama. Yet no breakout contenders have emerged, leaving many party activists to openly pine for Mr. Christie.
Never mind that he insists he is not interested.
To read more, visit: http://www.nytimes.com/2011/02/17/us/17christie.html