Clinton emails wiped clean after NYT story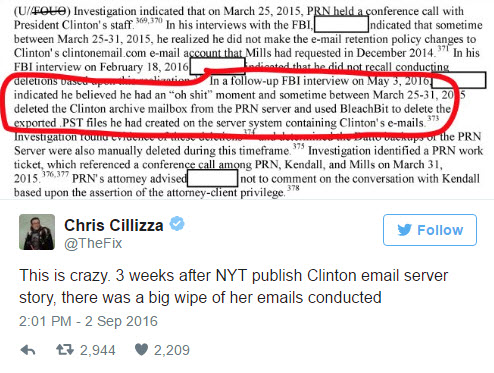 A number of Hillary Clinton's private emails were erased weeks after The New York Times published a story reporting on her use of a private email server while secretary of State, according to notes from the FBI's investigation released on Friday.
The notes include an entry that says that someone mistakenly deleted Clinton's archived mailbox from her server and exported files.
The deletion took place between March 25 and March 31, the FBI learned in a May 3 interview. The name of the person who deleted the emails was redacted from the FBI's notes.
"In a follow-up FBI interview on May 3, 2016, —— Indicated he believed he had an 'oh s–t' moment and sometime between March 25-31, 2015 deleted the Clinton archive mailbox from PRN server and used BleachBit to delete the exported .PST files he had created on the server system containing Clinton;s e-mails," the FBI notes released on Friday stated.