Color-coded threat system to be replaced in April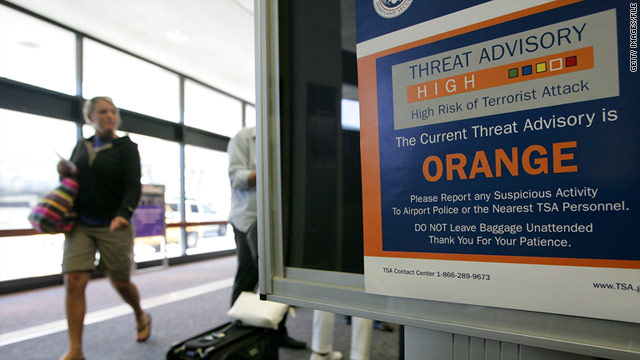 Washington (CNN) — The much-maligned, color-coded Homeland Security Advisory System is about to be consigned to the proverbial dustbin of history.
Not that anyone is really paying attention.
Homeland Security Secretary Janet Napolitano is expected to announce Thursday that the almost 9-year-old threat alert system will go away in April. It will be replaced by the new National Terror Advisory System that will focus on specific threats in geographical areas, a department source said Wednesday.
The source did not provide details of the new system, which Napolitano will unveil at what the department is calling "the first annual 'State of America's Homeland Security' address" at George Washington University.
The top Democrat and Republican on the House Homeland Security Commission reacted positively to the news, although committee chairman Rep. Peter King, R-New York, reserved judgment on the specifics.
"Though the system served a valuable purpose in the terrible days and months following the terrorist attacks of September 11, it was clearly time for the current color-coded system to be replaced with a more targeted system," King said. "I know they have been working on this for a long time. It sounds to me like the changes they are proposing make sense. We will have to wait and see how they implement this new, more targeted system. I expect the biggest challenge for DHS will be balancing the need to provide useful and timely information with the need to protect sensitive information."
"The old color coded system taught Americans to be scared, not prepared," said ranking member Rep. Bennie Thompson, D-Mississippi. "Each and every time the threat level was raised, very rarely did the public know the reason, how to proceed, or for how long to be on alert. I have raised concerns for years about the effectiveness of the system and have cited the need for improvements and transparency. Many in Congress felt the system was being used as a political scare tactic — raising and lowering the threat levels when it best suited the Bush administration."
President George W. Bush established the Homeland Security Advisory System by presidential directive on March 11, 2002, just a few months after the 9/11 terrorist attacks in New York and Washington. The five levels — green for low, blue for guarded, yellow for elevated, orange for high and red for severe — were intended to identify the risk of terrorist attack.
The initial level was yellow, which the system retained until September 11, 2002, when it was raised to orange to cover the first anniversary of the attacks. It was lowered back to yellow on September 24.
To read more, visit: http://www.cnn.com/2011/POLITICS/01/26/threat.level.system.change/?hpt=T1