Debt talks break down between Obama, Boehner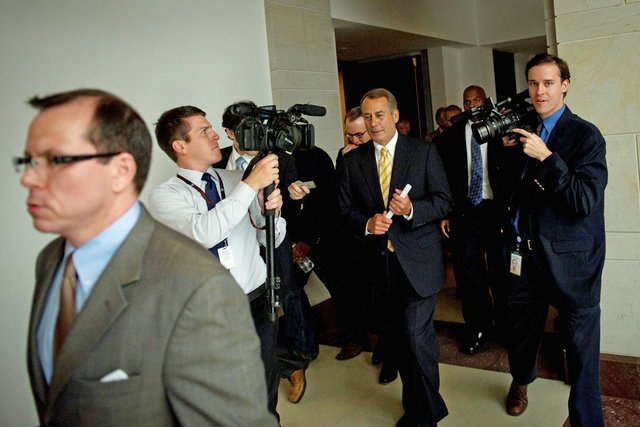 By Dave Boyer-The Washington Times
Deficit-reduction talks between congressional Republican leaders and President Obama broke down Friday night, with Speaker John A. Boehner saying he will try to reach a deal with Senate leaders instead of the White House.
"The deal was never reached, and was never really close," Mr. Boehnerwrote in a letter to House lawmakers released at 6 p.m. "In the end we couldn't connect. Not because of different personalities but because of different visions for our country."
A visibly frustrated President Obama took to the podium in the White House press briefing room minutes later to reveal that Mr. Boehner had called him to say he was pulling out of the negotiations.
"It's hard to understand why Speaker Boehner would walk away from this deal," Mr. Obama said. "This was an extraordinarily fair deal."
With the government expected to bump up against its debt limit on Aug. 2 if the nation's borrowing limit is not raised, Mr. Obama said he had summoned the leaders of the House and Senate in both parties to theWhite House at 11 a.m. Saturday "to explain to me" how the nation would avoid default.
"We have now run out of time," Mr. Obama said. "The American people are fed up with political posturing."
The president outlined the framework of the proposal he had offered Republican leaders: $1 trillion in cuts to domestic spending programs over 10 years, $650 billion in cuts to entitlement programs and $1.2 trillion in tax increases through closing loopholes and eliminating deductions.
"If it was unbalanced, it was unbalanced in the direction of not enough revenue," the president said. "I was willing to take a lot of heat from my party."
But it was the administration's insistence on revenue increases that led Republicans to change directions in talks.
Said House Majority Leader Eric Cantor, Virginia Republican: "Unfortunately, time and again these talks have reached an impasse for one reason: the Democrats' insistence on raising taxes on small businesses and working families. We must get Washington's fiscal house in order, but with millions of Americans out of work, the worst thing Washington can do is to raise taxes on those we need to start hiring again."
Senate Minority Leader Mitch McConnell, Kentucky Republican, said the development was "disappointing."
"I appreciate the Speaker insisting on reduced spending and opposing the President's call for higher taxes on American families and job creators," Mr. McConnell said. "It is similarly disappointing that the White House has refused to join Republicans in our effort to cut Washington spending now, cap runaway spending in the future and save our entitlement programs and our country from bankruptcy by requiring the nation to balance its budget. Speaker Boehner has informed us that he will work on a new path forward with Leader Reid to develop a solution that will prevent default, without job killing tax hikes, while substantially reducing Washington spending."
The president also complained that Mr. Boehner did not return a phone call from him earlier Friday.
"I've been left at the altar a couple of times now," Mr. Obama said.
The president said he is still confident that Congress will raise the debt ceiling, but he's less confident about any deal to reduce deficits.
"Can they say 'yes' to anything?" Mr. Obama said of Republican lawmakers. "Can they say 'yes' to anything?"
Mr. Boehner said in his letter to colleagues that the negotiations never really came close to bearing fruit because the White House and congressional Republicans have "different views for our country."
To read more, visit:Â http://www.washingtontimes.com/news/2011/jul/22/obama-house-gop-only-obstacle-debt/