Demint Endorses Romney–Almost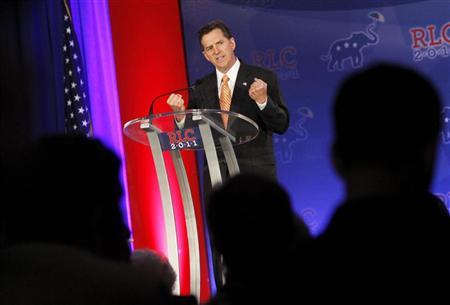 By JONATHAN MARTIN | 3/22/12 7:27 PM EDT
Mitt Romney huddled privately with Republican lawmakers on Capitol Hill on Thursday and came away with a big prize: something close to an endorsement from the Senate's most outspoken conservative.
Sen. Jim DeMint (R-S.C.), who backed Romney in 2008 but has remained on the sidelines this year as the former Massachusetts governor labors to win the nomination, said it's time the rest of the field consider bowing to the inevitable.
"We all need to look at this presidential primary and encourage the candidates to do a little self-reflection here on what's good for our country," DeMint told reporters after a morning sit-down with the front-runner. "The sooner we can make a decision, the sooner we can focus on the real problem, which is [President Barack] Obama."
Saying he expects the prolonged and often heated presidential battle to end "pretty soon," DeMint added: "There's no need to drag this to a convention if it's pretty clear who our nominee is."
Without mentioning Newt Gingrich and Rick Santorum by name, DeMint said that "the best thing they can do is maybe look at kind of throwing their support behind the one who might be our nominee. And that's beginning to look like Romney."
DeMint's warm words, which came on the heels of Jeb Bush's endorsement Wednesday, reflect a Republican Party that is both increasingly antsy to get on with the general election and reconciled to Romney as its standard-bearer. DeMint's realpolitik assessment of the state of the GOP race is especially important to Romney, whose campaign is stepping up efforts to convince Republicans and the press that resistance is futile. It's harder for Gingrich and Santorum to say that only the establishment is attempting to bring an end to the primary when a tea party leader like DeMint is making the same case.
Romney very much wants to create an aura of inevitability. Locking in more support from establishment Republicans to supplement his coffers will add to the sense that the party is falling in line behind his candidacy. And that's why the White House hopeful was in Washington.
Romney began his day in the capitol with a standing-room-only breakfast, raising about $400,000 and hobnobbing with the largest group of lawmakers he's drawn yet to a fundraiser event. The breakfast, which some of his congressional supporters helped raise cash for, included his Capitol Hill liaison, Sen. Roy Blunt (R-Mo.), as well as Republican Sens. John Thune of South Dakota and Rob Portman of Ohio and senior House Republicans, such as Fred Upton and Dave Camp of Michigan, who are committee chairmen.
"He talked a lot about his vision for the future of the country and growing the economy and creating jobs," said Thune.
To read more, visit:Â http://www.politico.com/news/stories/0312/74381.html#ixzz1puC6unBe