Democrats shun Pelosi's plea for cash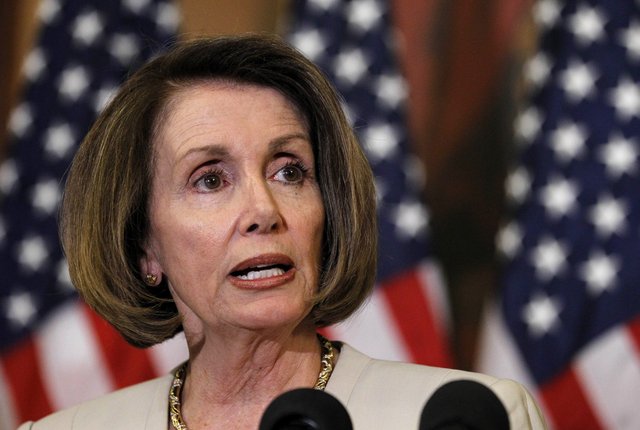 One by one, the pictures of House members adorning the lobby of Democratic Party headquarters have come down, turning neat rows of framed photos into a disjointed mess — "splattered," as one aide described it.
The half-dozen or so lawmakers whose mugs have vanished in recent weeks weren't indicted in court or slapped with an ethics violation. But their transgression is still deadly serious in the eyes of top party leaders: ignoring pleas to kick in cash for Democrats' increasingly uphill slog to take back the House.
Prying open members' fists is an election year ritual for leaders of both parties, but Democrats contend this time around has been particularly frustrating. Facing a team of deep-pocketed Republican outside groups poised to swamp them in TV ad spending — and with the party not benefiting from the kind of wave conditions that lifted Republicans two years ago — Democrats say the stinginess of their lawmakers has left them severely weakened as the fall campaign season approaches.
Democrats say they've tried just about everything to get their colleagues to open their wallets. The Democratic Congressional Campaign Committee has told members that unless they pay their dues in full, they won't get to partake in the committee's Democratic National Convention package, complete with access to much sought-after hotel rooms and parties. And in early June, House Minority Leader Nancy Pelosi (D-Calif.) tried to shame her members into giving, distributing notes to each of them with a request for cash and asking them if they are part of "the team."
The push hasn't had much success. As of June 30, 64 Democrats — around one-third of the entire caucus — hadn't paid anything to the DCCC, according to a party document provided to POLITICO. Another 109 members had paid only a portion of what they owe in dues, which are calculated based on seniority and committee assignments.
In June, GOP members flooded the National Republican Congressional Committee with nearly $6.4 million. The DCCC secured just $1.8 million from Democratic lawmakers.
Removing a lawmaker's picture from the national Democratic Party's headquarters might sound like the ultimate indignity, but officials tasked with expanding the party's House ranks contend that it's more than fitting treatment for those they no longer regard as team players.
"In a campaign environment where Republican outside groups have billionaire funders like [Las Vegas casino mogul] Sheldon Adelson, who can write $5 million checks like it's nothing, Democratic candidates need to be better funded than Republicans," said Ali Lapp, who runs the Democratic group House Majority PAC. "To the extent that Republican members are giving more to Republican candidates than Democratic members are giving to Democratic candidates, it's a problem."
To read more, visit:Â http://www.politico.com/news/stories/0712/78833.html#ixzz21RNjm3iZ