Despite Mitt wins, both sides keep eying Jeb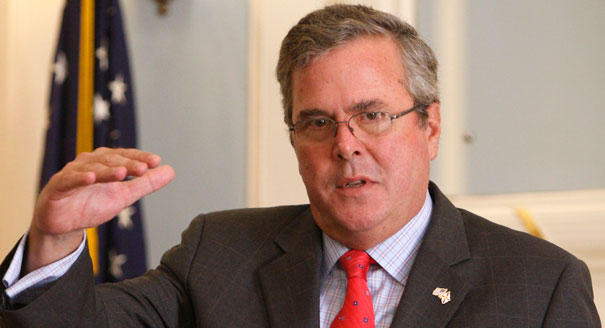 By GLENN THRUSH and MAGGIE HABERMAN, Politico
Mitt Romney's tortured triumph in Michigan put him back in the GOP driver's seat — but that hasn't quelled the desire among some Republicans to trade up.
Yes, Republicans are still pining for former Florida Gov. Jeb Bush, despite his repeated and vehement refusal to be sucked into the 2012 Republican vortex.
And Democrats continue to cast a wary eye on a guy they see as more dangerous — and capable of connecting with middle-class and Latino voters — than Romney.
The Bush murmurs persist, even as a resilient Romney marches towards Super Tuesday with a commanding lead in cash, delegates and a momentum over a sagging Rick Santorum.
"I have the perfect candidate, Jeb Bush. But he's not running," former George W. Bush chief of staff Andy Card told Charlie Rose on CBS Wednesday, echoing the sentiments of many in his party.
"What Democrat would not worry about a popular leader from a critical state who sounds pretty moderate and can rescue the GOP from its anti-Latino death grip?" asked former Clinton press secretary Mike McCurry, who says he's yet to find a Democratic elder who thinks the GOP is truly "unhinged" enough to consider ditching Romney for Bush.
Bush — who has refused to endorse Romney in 2012 as he did in 2008, and whose son endorsed Jon Huntsman — has fanned the flames himself, possibly to whet his party's appetite for a 2016 run. After keeping a low profile during the hotly-contested Florida primary in January, he popped up last week, at the height of the Romney-Rick Santorum duel in Michigan, to declare his problems with the GOP presidential field.
"I used to be a conservative and I watch these debates and I'm wondering, I don't think I've changed but it's a little troubling sometimes when people are appealing to people's fears and emotion rather than trying to get them to look over the horizon for a broader perspective," Bush told a gathering in Dallas last Thursday, according to FOX News.
"I think that changes when we get to the general election — I hope," added Bush, who has personally urged Romney to moderate his rhetoric on illegal immigration for fear of completely alienating Hispanic voters in states like Florida, Nevada, Colorado, New Mexico and Arizona.
To read more, visit:Â http://www.politico.com/news/stories/0212/73475.html#ixzz1npetfV8A