Despondent leaders try to put debt talks on track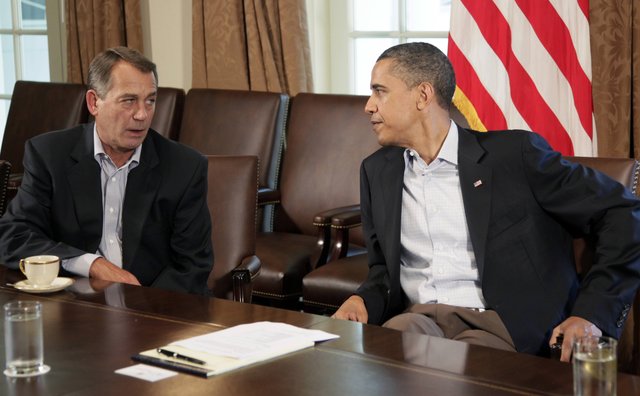 By Stephen Dinan-The Washington Times
Hours after another White House meeting, debt talks have shifted to Congress, where top leaders were meeting Saturday evening — without President Obama — to try to come up with a deal that would raise the government's debt limit before an Aug. 2 deadline.
House Speaker John A. Boehner, an Ohio Republican, convened the late-day meeting after lawmakers told Mr. Obama earlier they would try to find agreement this weekend.
"Over this weekend, Congress will forge a responsible path forward," Mr. Boehner said in a statement after the morning White House meeting, which lasted less than an hour and didn't seem to bode well for progress.
Mr. Obama called the White House meeting after Mr. Boehner said late Friday he was pulling out of talks with the president, arguing he had sprung a last-minute demand for 50 percent more tax hikes — something Republicans couldn't stomach.
The White House meeting broke up after less than an hour and with none of the participants speaking to reporters, though most issued statements saying they all want to find common ground.
To read more, visit: Â http://www.washingtontimes.com/news/2011/jul/23/one-day-after-breakdown-debt-talks-resume/