Dick Durbin: 'Fiscal Cliff' Solution Unlikely Before Election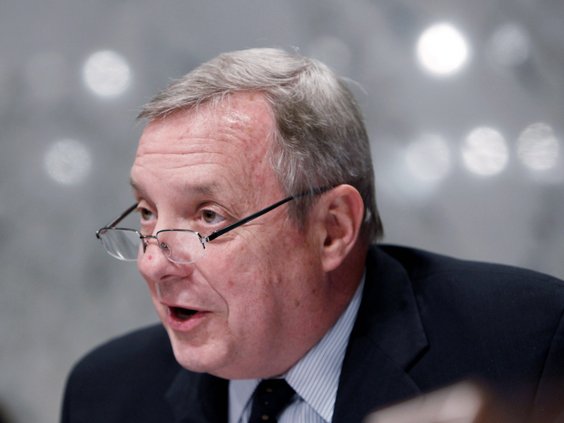 WASHINGTON, July 29 (Reuters) – The U.S. Congress is unlikely to resolve looming tax and spending issues before the Nov. 6 elections, a top Senate Democrat said on Sunday, but lawmakers are working on a proposal to tackle the issue after the elections.
Dick Durbin, the No. 2 Democrat in the Senate, said a bipartisan group of eight lawmakers is in talks to develop a solution to the steep tax increases and spending cuts, known as a "fiscal cliff," that take effect at the end of the year if no action is taken.
Speaking in an interview on CNN's "State of the Union, Durbin gave no details about the group, but said: "We believe there is a responsible, reasonable, way to move forward, and we are going to try to put something on the table to be considered."
He said the political environment ahead of the elections "is not one for compromise and negotiation."
"But if we are prepared the day after the election to move forward with a plan that restores confidence in the economy, and the ability of Congress to react to it, it's going to be a positive thing for us," Durbin said. "I think we can do it."
The Democratic-controlled Senate on Wednesday passed a bill to renew tax cuts for tens of millions of Americans while letting some rates rise for the wealthiest, but the legislation is certain to be rejected by the House of Representatives, which is controlled by Republicans.
Unless Congress acts, across-the-board income tax cuts are set to expire on Dec. 31, and deep, automatic spending cuts of $1.2 trillion over 10 years are slated to begin on Jan. 2.
Some Republican lawmakers have proposed legislation that would spare defense spending from the automatic cuts.
Republican Senator Kelly Ayotte of New Hampshire, speaking on the same program, accused Democrats of using the military as a "bargaining chip" in the negotiations, but said she was "willing to sit down with members of both sides of the aisle" to find a solution.
To read more, visit:Â http://www.huffingtonpost.com/2012/07/29/dick-durbin-fiscal-cliff_n_1717042.html