Dimon says Trump's tax cut and deregulation have 'accelerated growth'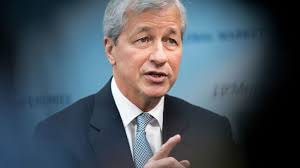 JPMorgan's Jamie Dimon on the US economy JP Morgan's Jamie Dimon on US economy
16 Hours Ago | 01:37
J.P. Morgan Chase CEO Jamie Dimon said Monday that President Donald Trump's tax cuts, along with some of his other efforts, have helped out the U.S. economy.
"Presidents get a lot of credit [and] a lot of blame for things they didn't do, but the president has done things which accelerated growth," Dimon told CNBC's Wilfred Frost on "Closing Bell." "We needed competitive taxes. The way the American public should be thinking of it is: For 20 years, we've been increasingly uncompetitive, driving capital and brains overseas."
Dimon also said some of the regulatory rollbacks pushed by Trump are helping small businesses. "We've had less small business formation in America than in any other recovery," he said. "This has accelerated the growth. It's been 20 percent over 10 years; it should've been 40. The reason it wasn't 40 is because of a lot of things that we did hurt ourselves."
Dimon's comments come after the Commerce Department said Friday the U.S. economy grew by 4.1 percent in the second quarter. That marked the highest growth rate since the third quarter of 2014, when the economy expanded by 4.9 percent.