Dismal Jobs Report Puts Policy Makers on the Spot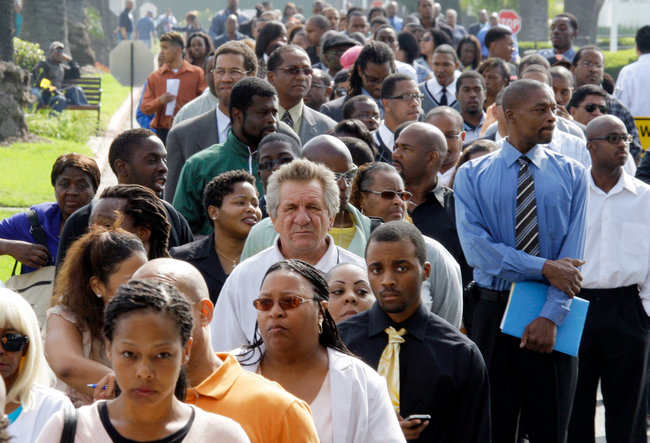 By SHAILA DEWAN, The New York Times
August brought no increase in the number of jobs in the United States, a signal that the economy has stalled and that inaction by policy makers carries substantial risk.
The government report on hiring, released on Friday, provided fresh evidence that the recovery has fizzled without gaining momentum, prompting another round in a relentless diminution of economic expectations. Signs of stasis abounded: the unemployment rate, at 9.1 percent, did not change last month, and the White House said it was expected to stay that high through at least 2012.
The optics of a giant zero in the jobs column — more symbolically powerful, perhaps, than even a small decrease might have been — increases the pressure on President Obama as he prepares to deliver a major address on job creation next week, on Republicans who have a starkly different approach to economic revival and on the Federal Reserve, whose policy makers have been divided over the wisdom of using its limited arsenal of tools to get the economy moving again.
Mr. Obama, who instructed the Environmental Protection Agency on Friday to pull back on more stringent standards on ozone emissions in response to complaints that it would hurt hiring, is expected to propose tax incentives for businesses that hire and infrastructure spending, as well as renewal of the payroll tax cut and extended unemployment benefits, both of which are set to expire.
The Federal Reserve is expected to weigh whether to take steps to help lower long-term interest rates to bolster the economy at its two-day meeting later this month.
The new data, a monthly snapshot from the Department of Labor, sent stocks sliding. The Dow Jones industrial average fell 253.31 points on Friday, closing at 11,240.26, down 2.2 percent.
Some economists said the possibility of a double-diprecession was increasing.
"As long as payrolls are weak you will continue to hear cries of not just recession risk, but cries that the United States is in a recession and we just don't know it," said Ellen Zentner, the senior United States economist for Nomura Securities.
This is not the first time that job growth, the most important measure of the economy for many Americans, has ground to a halt since the recovery. It dropped into negative territory in the middle of last year after three months of strong showings. This time, the slowdown comes after the earthquake in Japan, a spike in oil prices and the European debt crisis, in addition to political gridlock in America.
Even if the economy does not contract, the projected growth rate is so slow it will not be enough to absorb new people entering the labor market, much less the unemployed.
"We have virtually the same number of jobs as we did in January 2000," said Patrick J. O'Keefe, the director of economic research at J. H. Cohn, an accounting firm. "Were jobs to continue to grow at the 2011 monthly average, it would take more than four years to return to the prerecession employment level."
To read more, visit:Â http://www.nytimes.com/2011/09/03/business/economy/united-states-showed-no-job-growth-in-august.html