Donald Trump hails economy after first year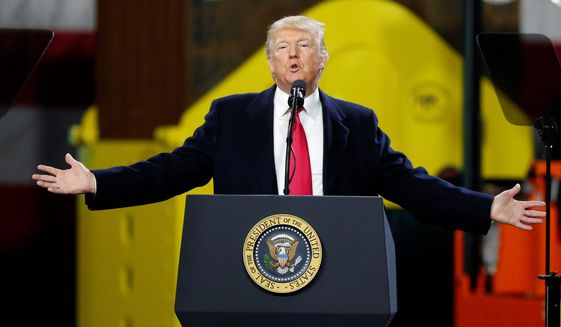 President Trump marks his first year in office Saturday riding a wave of strong economic news, including a record-high stock market, a low unemployment rate and computer giant Apple's decision to bring back hundreds of billions of dollars from overseas and create 20,000 U.S. jobs, spurred by Republican tax cuts.
For the past year, Mr. Trump has been telling voters that his recipe of less regulation and lower taxes would be "rocket fuel" for employers.
One year since Mr. Trump's inauguration, it looks very much like the economy is lifting off.
Corporate profits soared last year. Unemployment fell to a 17-year low of 4.1 percent, with employers adding about 2 million jobs.
Gross domestic product rose to more than 3 percent in the past two quarters. Consumer confidence and business optimism climbed, and holiday sales rose 5.5 percent over the previous year.