Economy in focus during Obama, Romney showdown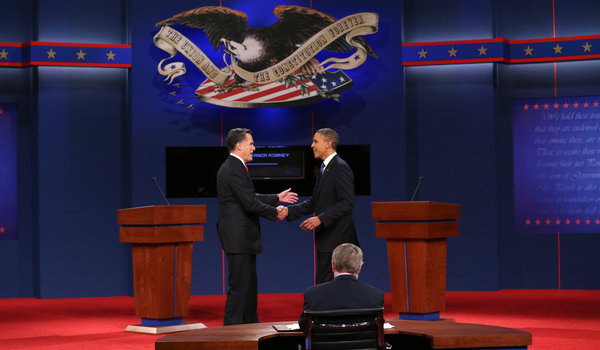 CBS News
After months of heated, sometimes nasty, campaigning, President Obama and Mitt Romney are meeting in the same room on the same stage for the first time tonight for the first of three debates, this one focusing specifically on the top issue on voters' minds: the economy.
At the University of Denver, in the battleground state of Colorado, moderator Jim Lehrer threw the first question to President Obama, who was first up after winning a coin toss. Beyond the cordial, obligatory opening remarks, which included the president wishing his wife, Michelle, a happy 20th wedding anniversary, the debate quickly turned to the economy.
The opening remarks of the debate broadly defined the differing visions of the two candidates.
"Are we doing to double down on the top-down" economic plan that Romney proposes, the president said, criticizing Romney for an economic plan that benefits the wealthy, "or do we embrace a new economic patriotism?" Mr. Obama asked, which he defined as an economic approach of shared sacrifice and a focus on the middle-class.
Romney responded recounting a story of a young couple who is struggling and just lost their home. He said he "can help" such families, but it's "It's going to take a different path." He added, "The president has a view very similar to the view he had when he ran four years, that a bigger government, spending more, taxing more, regulating more — if you will, trickle-down government — would work."
Prior to the start of the debate, an Obama campaign aide said the president's aim is not to attack Romney but "will correct Romney's attacks as needed," adding that his "number one goal" is to lay out his plans for the next four years.
The president hit a common theme he often addresses on the campaign trail, slamming Romney's tax plan for cutting taxes by $5 trillion dollars without defining how he would pay for it.
"How we pay for that, reduce the deficit, and make the investments that we need to make, without dumping those costs onto middle-class Americans, I think is one of the central questions of this campaign," the president said.
Romney quickly refuted the president's argument. "Virtually everything he just said about my tax plan is inaccurate," Romney said. He said his plan would cut taxes for the middle class, but wouldn't reduce the "share" of taxes high-income earners pay.
"High-income people are doing just fine in this economy. They'll do fine whether you're president or I am," Romney said. "I will not reduce the taxes paid by high-income Americans."
Mr. Obama chided, "Well, for 18 months he's been running on this tax plan. And now, five weeks before the election, he's saying that his big, bold idea is, 'Never mind.'"
To read more, visit:Â http://www.cbsnews.com/8301-250_162-57525673/economy-in-focus-during-obama-romney-showdown/