Federal deficit on track for a record this fiscal year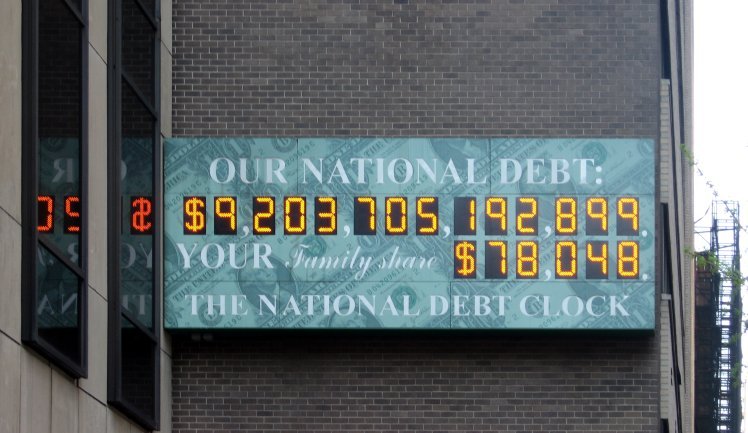 By Stephen Dinan-The Washington Times
President Obama's budget, released Monday, was conceived as a blueprint for future spending, but it also paints the bleakest picture yet of the current fiscal year, which is on track for a record federal deficit and will see the government's overall debt surpass the size of the total U.S. economy.
Mr. Obama's budget projects that 2011 will see the biggest one-year debt jump in history, or nearly $2 trillion, to reach $15.476 trillion by Sept. 30, the end of the fiscal year. That would be 102.6 percent of GDP — the first time since World War II that dubious figure has been reached.
And the budget projects the government will run a deficit of $1.645 trillion this year, topping 2009's previous record by more than $230 billion. By contrast, 2007's deficit was just $160 billion altogether.
Still, amid the other staggering numbers in the budget Mr. Obama sent to Congress on Monday, the debt stands out because Congress will need to vote to raise the debt limit later this year, and because the numbers are so large.
In one often-cited study, economists Carmen Reinhart and Ken Rogoffhave argued that when a nation's gross debt passes 90 percent it hinders overall economic growth. The government measures debt several ways. Debt held by the public includes the money borrowed from Social Security's trust fund.
Actual debt held by the public will reach 72 percent of GDP in 2011 and will climb as the Social Security trust fund's finances continue to deteriorate.
Republicans argued Monday that the Obama administration's new budget fails to appreciate the depth of the country's fiscal plight.
"I still don't see a sense of urgency from the president about the massive federal debt," said Sen. Lamar Alexander, Tennessee Republican. "His budget calls for too much government borrowing — even though the debt is already at a level that makes it harder to create private-sector jobs."
White House budget Director Jacob "Jack" Lew said the goal was to get to a point where the debt is at least stabilized by the middle of the decade.
To read more, visit: http://www.washingtontimes.com/news/2011/feb/14/debt-now-equals-total-us-economy/