Final Florida push begins after contentious debate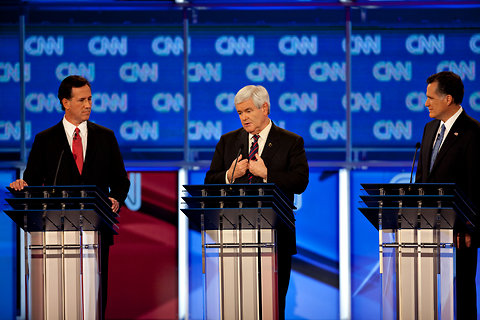 By Rachel Streitfeld and Adam Aigner-Treworgy, CNN
Jacksonville, Florida — Republican presidential hopefuls headed into the homestretch of the critical Florida primary campaign Friday after a riveting debate that analysts believe gave Mitt Romney a boost over fellow front-runner Newt Gingrich.
Florida voters will decide Tuesday who gets the biggest delegate haul so far of the GOP presidential race, and the CNN/Republican Party of Florida debate provided the four candidates with their final chance to face one another on the same stage in the increasingly vitriolic contest.
Romney and Gingrich entered Thursday's debate in a statistical dead-heat for the lead, according to recent polling, with former Pennsylvania Sen. Rick Santorum and Texas Rep. Ron Paul trailing well back.
Paul, who concedes he has no chance of victory in Florida's winner-take-all primary, heads to more moderate Maine on Friday to campaign for the caucus that begins February 4, while Romney, Gingrich and Santorum all planned events in Florida to begin their final push for Tuesday's primary.
Needing a strong showing to try to blunt Gingrich's harsh attacks of recent days, Romney was forceful and had the former House speaker on his heels on some issues.
To read more, visit: