Fiorina: Obama Destroying More Businesses Than Government 'Creates'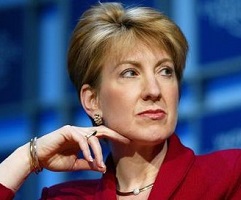 Former Hewlett-Packard CEO Carly Fiorina on Saturday said America was losing more businesses than it could launch because of suffocating economic regulations.
"The heroes of the American economy are small businesses and family-owned businesses," she said at the New Hampshire Republican Party's First in the Nation leadership summit in Nashua, N.H.
"For the first time in U.S. history, we are destroying more businesses than we are creating," Fiorina continued.
"All of the things they are doing up there are landing on us down here," she added of big government's actions. "The weight of the government is literally crushing the potential of the people of this nation."
Fiorina's remarks come as she weighs a 2016 GOP White House bid. The former business executive drew a distinction between adequate and amazing executives during her address Sunday.