Florida Governor: State Could Be Facing 'Biggest Evacuation Ever' With Hurricane Matthew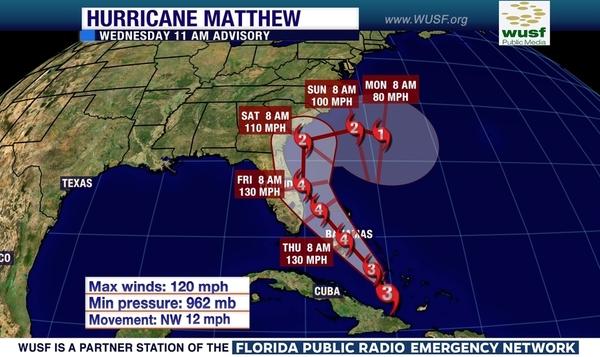 FORT LAUDERDALE, Fla. — Hurricane Matthew marched toward Florida, Georgia and the Carolinas and nearly 2 million people along the coast were urged to evacuate their homes Wednesday, a mass exodus ahead of a major storm packing power the U.S. hasn't seen in more than a decade.
Matthew was a dangerous and life-threatening Category 3 storm with sustained winds of 120 mph as it passed through the Bahamas, and it was expected to be very near Florida's Atlantic coast by Thursday evening. At least 16 deaths in the Caribbean have been blamed on the storm, with heavy damage reported in Haiti.
The National Hurricane Center said in a statement that life-threatening wind and storm surge could leave parts of northeast Florida and southeast Georgia "uninhabitable for weeks or months."
The storm was forecast to scrape much of the Florida coast and any slight deviation could mean landfall or it heading farther out to sea. Either way, it was going to be close enough to wreak havoc along the lower part of the East Coast, and many people weren't taking any chances.