Foreign policy to take center stage as Obama, Romney debate at Lynn University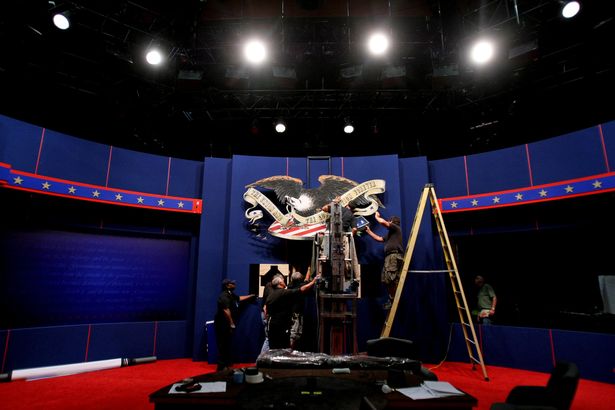 By George Bennett, Palm Beach Post
BOCA RATON — In a campaign that has been dominated by economic issues, President Obama and Mitt Romney will use their final meeting before the election to debate foreign policy Monday night from the campus of Lynn University.
Both candidates took a break Sunday from their dizzying schedules of campaign rallies and fundraisers, with Romney holed up at the Delray Beach Marriott while Obama hunkered down at Camp David in Maryland.
Romney did venture across Ocean Boulevard early in the afternoon to conduct the coin toss for a flag football game between his senior campaign aides and reporters who cover him.
"Figure out which of their players is best and take them out early," Romney joked with his staff. "That's right. Don't worry about injuries, guys — this counts. Win."
Romney has been in Florida — a state critical to his White House hopes — since Friday. Obama is scheduled to arrive Monday afternoon at Palm Beach International Airport.
Polls show a tight race nationally and in Florida. And surveys after the first two debates gave Romney the advantage in the first showdown on Oct. 3 at the University of Denver while Obama had the edge in last week's debate from Hofstra University in Hempstead, N.Y.
Monday night's 90-minute debate could be viewed as the rubber match, although the topic of international affairs has carried less weight with voters than the economy in 2012 polls.
To read more, visit: Â http://www.palmbeachpost.com/news/news/national-govt-politics/foreign-policy-to-take-center-state-as-obama-romne/nSjhc/