Former Secretary of State Warren Christopher Dies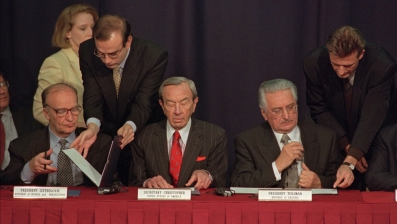 Associated Press
LOS ANGELES –  Warren M. Christopher, a key figure in peace efforts in Bosnia and the Mideast as secretary of state in the Clinton administration, has died, a spokeswoman for his law firm said Saturday. He was 85.
Christopher died at his home in Los Angeles late Friday of complications from bladder and kidney cancer, said Sonja Steptoe of the law firm O'Melveny & Myers, where Christopher was a senior partner.
A longtime Californian, Christopher also headed a panel that pushed a number of Los Angeles Police Department reforms following the 1992 riots.
A loyal Democrat and meticulous lawyer, Christopher also supervised the contested Florida recount for Al Gore in the 2000 presidential election. The Supreme Court, on a 5-4 vote, decided for George W. Bush.
As he prepared to step down in 1996 as secretary "for someone else to pick up the baton," he said in an interview he was pleased to have played a role in making the United States safer.
To read more, visit:Â http://www.foxnews.com/politics/2011/03/19/secretary-state-warren-christopher-dies-age-85/#ixzz1H2aR24Nr