Gary Johnson says he's made the ballot in all 50 states and D.C.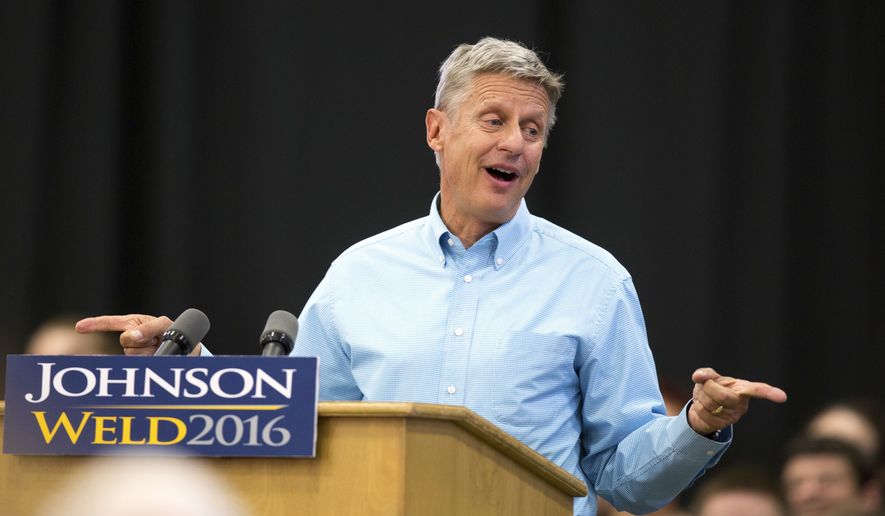 Libertarian Party presidential nominee Gary Johnson says he'll be on the ballot in all 50 states plus the District of Columbia, lending his candidacy some legitimacy as he continues his full-court press to try to qualify for the first presidential debate later this month.
"With a majority of Americans wanting a choice other than Donald Trump and Hillary Clinton, today we now know for certain that on Election Day, every voter in America will have that alternative option," Mr. Johnson said in a statement Tuesday evening.
"And today we also know that the only other option on every American voter's ballot will be myself and Gov. [Bill] Weld," he said.
Mr. Johnson has fallen short of the 15 percent threshold required to qualify for the presidential debates in recent national polls. His campaign took out a full-page ad in The New York Times this week touting the ballot access milestone and asking for a third podium on the stage at the Sept. 26 debate.
"Allow us to make our case to the American people. If, in the polls that follow, we fail to meet that 15% standard, we'll make no further efforts for inclusion in subsequent debates," said the open letter to the Commission on Presidential Debate, signed by Mr. Johnson and his running mate, former Massachusetts Gov. Bill Weld.