Get Over It, Democrats: Putin Didn't Rig the Election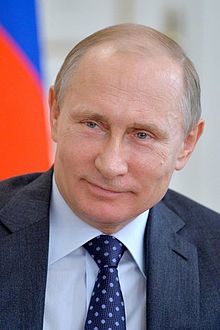 Without a real leg to stand on after watching the campaign implosion of perhaps the worst candidate ever to run as a Democrat, liberals are reaching back into Cold War lore to scare up distractions ahead of the Trump presidency. Accept it! Hillary lost the election because she did not engage with working class, breadbasket whites, inexplicably (and rather arrogantly) skipping over even the women in that demographic. No, humility is impossible when there is an inflammatory red herring to be played. Putin, seeming to lean slightly to the right in his muted comments about the US election, now finds himself at the center of a hacking controversy that no one believes, not even the Dems themselves.
The DNC is hoping beyond hope that no one actually paid attention to the saga of John Podesta and Julian Assange. (In case you weren't paying attention, Julian Assange is the head honcho at Wikileaks currently living in exile in Ecuador. Why? Simple: He is perhaps the best whistleblower the Democrats have ever faced down.) Assange is a man Secretary of State Hillary Clinton openly tried to kill, according to unidentified state sources.
Podesta is a close Clinton aide whose emails were hacked by an unidentified third party because of a typo from his aide, Charles Delavan, as reported by the New York Times.
Here is where the story takes an interesting turn. CIA operatives blame Podesta's breach on Russia, saying they followed a shortened bit.ly URL address into a hidden web of Russian infrastructure.
There is already a problem with this scenario: Bit.ly is an open service, available to anyone. It is not a sophisticated technique whatsoever. Neither was the "technique" that was used to hack Podesta originally. The breach was caused by a phishing email, which basically means that someone sent a Nigerian prince scam to Podesta and he clicked it.
Does this really sound like the technique that a man of Putin's caliber, a guy who was photographed as an espionage agent within striking distance of President Reagan, would use?
You have to do some digging, and you have to know some people, but it can be – almost – confirmed that the Podesta hack that revealed Donna Brazile's CNN debate cheating and the DNC's sabotage of Bernie Sanders was orchestrated by a random flyover state neckbeard with rudimentary security skills. That is how Wikileaks gets most of its information, not to mention that the DNC completely skipped over the master of digital espionage, Assange himself, as a suspect.
The DNC also wants to try to connect Trump to business people in Russia. As a matter of fact, the Podesta emails showed that Podesta had a substantial amount of shares in a Putin-affiliate company. Even if the Donald has business ties with Russia (like DNC shill Jay Z), he's only following suit with the Democrats.
Get over it, Democrats: Putin didn't rig the election. Your remedial politics and arrogant candidate worked overtime on that job.
Sources: