Gingrich Defends Stance On Illegals in GOP Forum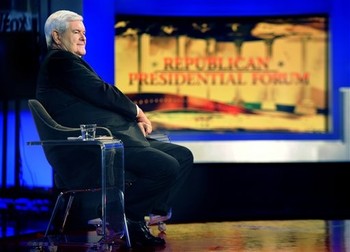 Six presidential candidates participated in Mike Huckabee's presidential forum in New York City Saturday, fielding questions from three Republican attorneys general – Pam Bondi of Florida, Ken Cuccinelli of Virginia, and Scott Pruitt of Oklahoma.
Newt Gingrich, who in a Des Moines Register Poll out Saturday has taken the lead in Iowa at 25 percent support, defended his proposal for determining which illegal immigrants should be able to stay in the United States. Bondi expressed concerns that neighborhood boards would undermine the rule of law, especially when neighbors and friends would be determining their fate.
"That is what we do in a jury trial," said Gingrich. "That's the whole point. That's why the founding fathers who distrusted judges insisted on juries. Because ultimately, in a free society, the citizens have to bear responsibility for their own culture and their own society. And ultimately, they are — I believe they are — more trustworthy. If you ask me would I trust a jury or a Washington bureaucrat, I would rather have my fate decided by a jury of my peers than have my fate decided by a Washington bureaucrat."
Each candidate was given equal time to field questions from the state attorneys general, which gave candidates like former Pennsylvania Senator Rick Santorum and Minnesota Congresswoman Michele Bachmann, who have protested the amount of time allotted to them in debates, more airtime to describe and defend their positions.
Massachusetts Governor Mitt Romney, asked to harmonize his support for No Child Left Behind and his argument that the federal government should get out of education, said he continues to support "aspects" of NCLB and praised President Bush.
"President Bush recognized that the only way for us to determine which schools were succeeding and which were failing, which teachers were succeeding and which were failing was to test our kids," he said. "And the only way that could happen was for the federal government to stand up to the huge federal teachers' unions that have massive resources, huge number of members. He stood up to them. I look forward to the day when we don't have to have that federal role because education should be held at the local level. It should be managed and controlled by states, by localities, by parents and families, and not by the federal government."
To read more, visit: Â http://politics.blogs.foxnews.com/2011/12/04/candidates-respond-state-attorneys-general-huckabee-forum