Gingrich hopes to team up with Santorum in last-ditch attempt to stop Romney winning GOP nomination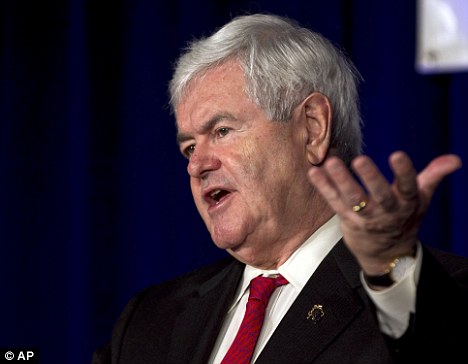 From MailOnline
With polls showing Newt Gingrich trailing in fourth place for the upcoming Wisconsin primary he is already getting his back up plans in place with talks of a joint ticket with Rick Santorum.
As Gingrich's hopes fade for gaining ground in the next primary his state campaign director has announced a shifting of goals focusing on winning the support of 'soft delegates' after Tuesday's vote.
These so-called 'soft delegates' amount to Wisconsin's three Republican National Committee delegates and the three delegates from each of the eight congressional districts who could become unbound at the convention.
'Newt is going to be focusing on soft delegates, unbound delegates, and of course all of the delegates are unbound after the second ballot,' Lorge told FOX News.
Gingrich's strategy hinges on preventing front-runner Mitt Romney from winning the 1,144 delegates he needs for the nomination.
And Lorge revealed discussions that the ex-House speaker may consolidate the delegates he wins over with those supporting Santorum in a bid to overcome Romney's lead.
To read more, visit: Â http://www.dailymail.co.uk/news/article-2123380/Newt-Gingrich-hopes-team-Santorum-ditch-attempt-stop-Romney-winning.html