GOP faces new pressure to act on guns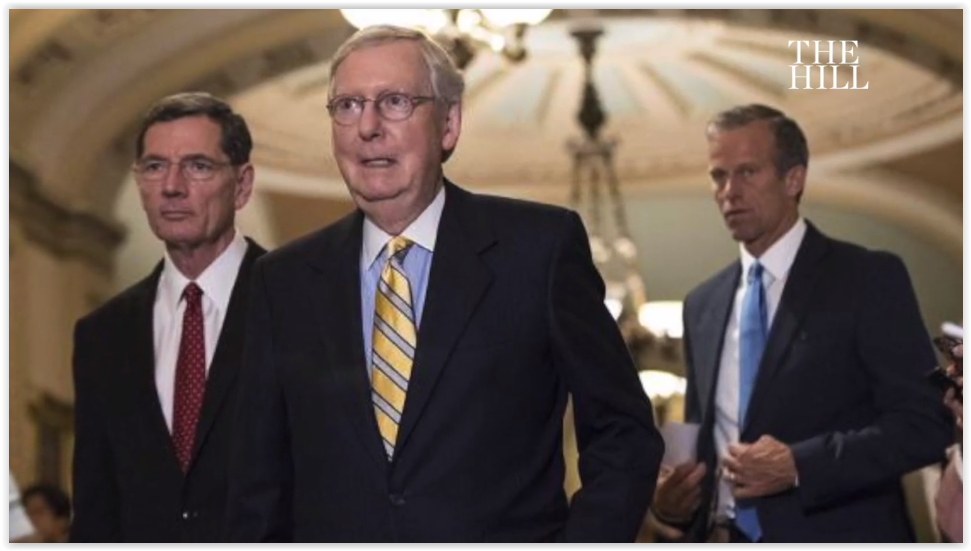 For Republicans hoping to run out the clock on gun reform, the weekend's mass shooting in Texas has complicated the math.
The killings of seven people in Odessa by a lone gunman on Saturday has rekindled the push for stricter gun laws, rousing Democrats and outside reform advocates already energized by the summer's tragedies.
Walmart, one of the world's largest retailers, announced Tuesday that it would limit its ammunition sales and request customers not openly carry firearms — a move immediately condemned by the National Rifle Association (NRA) as "shameful."
Democrats have seized on the latest news to renew their calls for action, putting new pressure on the GOP.
"It's time to lead on this issue. Put the House-passed background checks bill on the Senate floor for debate and a vote," Senate Minority Leader Charles Schumer (D-N.Y.) said Tuesday in a tweet directed at Senate Majority Leader Mitch McConnell (R-Ky.).
Sen. Dianne Feinstein (D-Calif.) separately questioned "when will enough be enough?"
"When Congress returns next week, gun safety laws need to be at the top of our priority list. President Trump and Senate Republicans need to stand up to the NRA," added Feinstein, the top Democrat on the Senate Judiciary Committee.
News that the Odessa suspect had failed a background check in Texas, according to Gov. Greg Abbott (R), fueled the Democratic calls. Reports later on Tuesday revealed the suspected shooter had avoided a federal screening by purchasing his gun through a private sale — the loophole Democrats are hoping to close.
While the Walmart announcement provided a lift of momentum to gun control supporters, legislation faces a myriad of obstacles.
McConnell warned Tuesday that in order to get a vote on the Senate floor, a bill will need support from President Trump.
"If the president is in favor of a number of things that he has discussed openly and publicly and I know that if we pass it, it will become law, I'll put it on the floor," McConnell told conservative radio host Hugh Hewitt.
The red line raises the prospects that nothing will pass Congress given the deep political divisions, with Trump and House Democrats far apart on solutions to prevent future mass shootings and the 2020 elections looming.
The White House has been locked in negotiations with a small group of senators — Sens. Chris Murphy (D-Conn.), Pat Toomey (R-Pa.) and Joe Manchin (D-W.Va.) — about potential reforms, including expanding background checks on gun sales. A Democratic aide said Tuesday that the talks are still "very much ongoing."
But Trump has been all over the board about what he would support following mass shootings in Dayton, Ohio, and El Paso, Texas, giving Republicans little incentive to take a position on specific bills while dispersed across the country and away from national media. And even reform champions like Murphy are skeptical the talks will bear fruit.
Though support for background checks polls around 90 percent, including 92 percent of Republicans in a recent Quinnipiac University national poll, Senate Republicans are unlikely to back a gun reform bill without political cover from Trump. Republicans are defending 23 Senate seats next year, with all but two of them in states won by the president in 2016 and most in deep-red territory.
Supporters of new gun reforms acknowledge that they are unlikely to win over McConnell without help from Trump, who previously supported background checks after the Parkland, Fla., shooting only to back down amid opposition from the gun lobby.
Murphy, during a recent interview with The Hill, floated that Trump seems to understand that there's "enormous political vulnerability" for Republicans if they don't act.
"It's possible that the president has a sharper political antenna on the issue of guns than congressional Republicans do. It may be that the president understands that there is a real opportunity for Republicans to speak to young voters and suburban voters on the issue of guns by reaching out and trying to get a deal done on background checks," Murphy told The Hill.
Rep. Ro Khanna (D-Calif.) offered a similar assessment.
"The president never has done well in the suburbs," he said, "but he can't get demolished in the suburbs to have a shot at reelection."
But Trump and top White House staffers have sent mixed signals following the Dayton and El Paso shootings about what the president supports and what will be included in the administration's promised legislative proposal.
Trump, over the weekend, said the Odessa shooting "hasn't changed anything," but that the White House would be offering a "big package" to respond to the recent shootings.
"We're doing a package, and we'll see what it all — how it comes about. It's coming about right now. And a lot of people are talking about it. And that's irrespective of what happened … in Texas," Trump told reporters.
Trump also downplayed the ability of background checks to prevent mass shootings, arguing that it's a "mental health problem."
"For the most part, as strong as you make your background checks, they would not have stopped any of it," he added.
Toomey told ABC News's "This Week" that Trump is "very interested in doing something meaningful."
"I can't guarantee an outcome. I'm not sure where this all ends. But the president is very interested, I remain very interested in measures that would make it harder for people who shouldn't have guns to get guns," Toomey said.
Toomey's office on Tuesday circulated a memo to reporters detailing eight shootings that they believe the Manchin-Toomey bill could have prevented. A spokesman for Toomey added that expanding background checks to all commercial sales remains the GOP senator's "top priority. Simply put, this approach would save lives."
In the absence of public pressure from Trump, Senate Republicans have pitched their own hodgepodge of ideas — including "red-flag" legislation and mental health reforms. McConnell has tapped three GOP chairmen — Sens. Lindsey Graham (R-S.C.), Roger Wicker (R-Miss.) and Lamar Alexander (R-Tenn.) — to brainstorm ideas.
But the caucus remains largely dug in against expanding background checks, the main request from Democrats.
Sen. Ted Cruz (R-Texas), whose home state was rocked by two mass shootings in the past month, on Tuesday argued that Congress should pass his legislation that would incentivize agencies to quickly share information with the federal background check system.
"We need to focus on what works. And I'll say in this 2020 season it has become abundantly apparent what the real policy objective of Democrats is," Cruz added. "The 2020 presidential candidates are openly embracing gun confiscation now, mandatory federal government confiscation of private firearms owned by law abiding citizens."