GOP hopeful Santorum tries to claim Louisiana territory to cut into Romney's delegate lead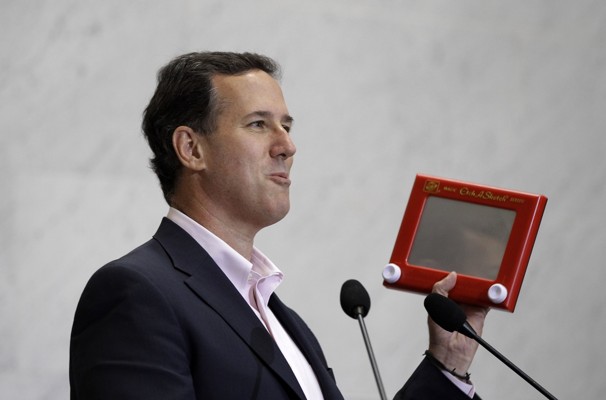 By Nia-Malika Henderson and T.W. Farnam, The Washington Post
WEST MONROE, La. — Rick Santorum has a new campaign prop and some fresh lines, but the long-shot Republican presidential hopeful still faces the same problem that has dogged his campaign for weeks: He is way behind in the delegate count in a race that is all about delegate counts.
Ahead by double digits in polls here, Santorum is expected to do well and to continue his streak of strong showings in the South. Yet, with a delegate gap that keeps getting wider, the final vote tally in Louisiana may not matter much in the long run given that the former senator from Pennsylvania faces daunting odds and a difficult stretch of contests next month.
In the run-up to Saturday's GOP primary, where 20 of the state's 46 delegates are up for grabs, Santorum campaigned on energy and health care, slamming front-runner Mitt Romney as the Etch a Sketch candidate while casting himself as a conviction conservative with beliefs that are etched in stone.
With its sizable evangelical population — 57 percent of the 2008 Republican electorate, according to exit polls — Louisiana is a good fit for Santorum.
He called on Republicans here to press "the reset button" — a dig at a Romney adviser who suggested the former Massachusetts governor would reset his campaign, "like an Etch A Sketch," once he won the nomination.
To read more, visit: Â http://www.washingtonpost.com/politics/santorum-pounds-on-romney-as-he-campaign-through-louisiana/2012/03/23/gIQADFAmWS_story.html