GOP leader McConnell to force Senate vote on healthcare repeal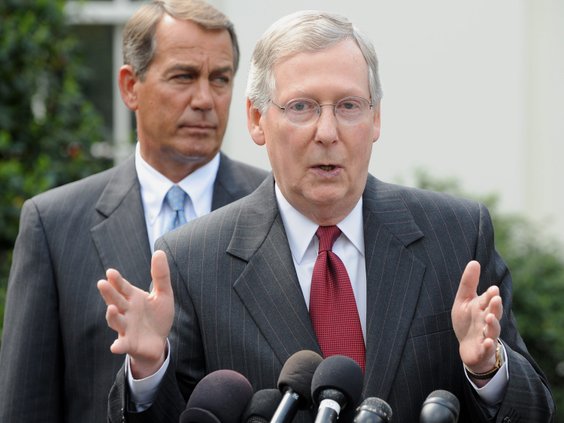 By Alexander Bolton-The Hill
Senate Minority Leader Mitch McConnell will force an up-or-down vote on the repeal of healthcare reform on Wednesday, testing the unity of Democrats who had promised the rollback would never see the light of day in their chamber.
The vote in the Senate will come two weeks to the day after the House voted, largely along party lines, to repeal the healthcare law.
McConnell (R-Ky.) told colleagues during a lunch meeting on Tuesday that he would offer healthcare reform repeal as an amendment to legislation on the Senate floor.
In a statement, McConnell said the repeal vote gives Democrats a chance to "reevaluate" their support for the controversial healthcare law, which a federal judge in Florida struck down as unconstitutional on Monday.
"For all those who supported the health law, it's an opportunity to re-evaluate your vote. To listen to your constituents who are desperately trying to get your attention. You can say, 'Perhaps this was a mistake. We can do this better.' Or you can continue to dismiss the majority of the people in this country as not knowing what they're talking about."
McConnell offered the repeal as an amendment to the Federal Aviation Administration (FAA) reauthorization bill Tuesday afternoon.
"It's not every day that you can get a second chance on a big decision after you know all the facts," McConnell said in the statement.
The vote will force Democrats — some of whom were not present for the final vote approving the healthcare legislation last March — to affirm their support for keeping a law that polls have shown is increasingly unpopular with the public.
Republicans made a promise to "repeal and replace" the healthcare law, one of the central messages of their midterm election campaign.
Sen. Joe Manchin of West Virginia, a freshman Democrat facing reelection in 2012, told The Hill he would not support repeal despite his vocal criticism of the law's individual mandate to buy insurance.
To read more, visit: http://thehill.com/homenews/senate/141493-mcconnell-to-senate-force-vote-on-healthcare-repeal