GOP presidential field needs a dose of excitement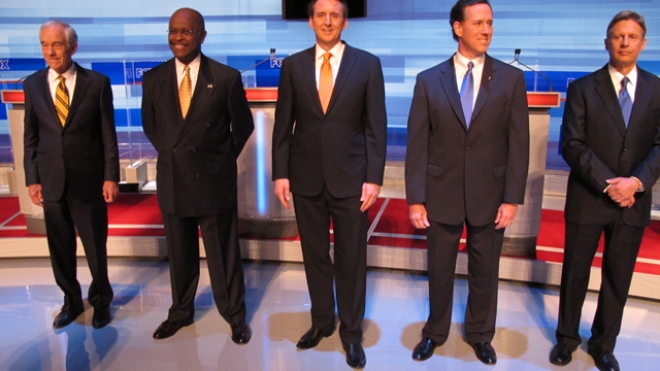 By Seth McLaughlin-The Washington Times
In a Republican presidential field where no top-tier candidate offers a flawless resume, the question facing GOP primary voters is whether they can find a diamond in the rough — a standard-bearer who embodies the party's conservative backbone and can give President Obama a run for his money.
With former Massachusetts Gov. Mitt Romney, the nominal front-runner in a wide-open field, set to formally enter the race Thursday, all of the top candidates have significant deviations from Republican orthodoxy on their records, while the second-tier hopefuls have yet to prove they can raise funds and energize base voters enough to threaten Mr. Obama's re-election hopes.
That could pose problems for Republicans, who feel Mr. Obama's record on health care and federal spending should make him ripe for a serious challenge in 2012. GOP officials at the very least want a strong presidential showing to help them hang on to control of the House and win the three or four seats needed to gain control of the Senate.
"There is a reason why Republicans are so desperate to find another candidate and begging candidates to get into the race, because the current crop just isn't cutting it," said Mo Elliethee, a Democratic strategist.
Those who have formed campaigns or exploratory committees are Mr. Romney, former House Speaker Newt Gingrich, former Minnesota Gov. Tim Pawlenty, Rep. Ron Paul of Texas, former New Mexico Gov. Gary Johnson, former Sen. Rick Santorum of Pennsylvania, businessmanHerman Cain and former Utah Gov. Jon Huntsman Jr.
Those toying with a run include Texas Gov. Rick Perry, Rep. Michele Bachmann of Minnesota, former New York Gov. Rudolph W. Giuliani, a 2008 candidate, and former Alaska Gov. Sarah Palin.
The party's big fear is a repeat of 1996, when the nominee, Sen. Bob Dole of Kansas, topped a lackluster field but failed to energize the GOPin the general election, delivering another win to President Clinton.
To read more, visit:Â http://www.washingtontimes.com/news/2011/may/31/gop-field-needs-a-dose-of-excitement/