GOP pushes for balanced-budget amendment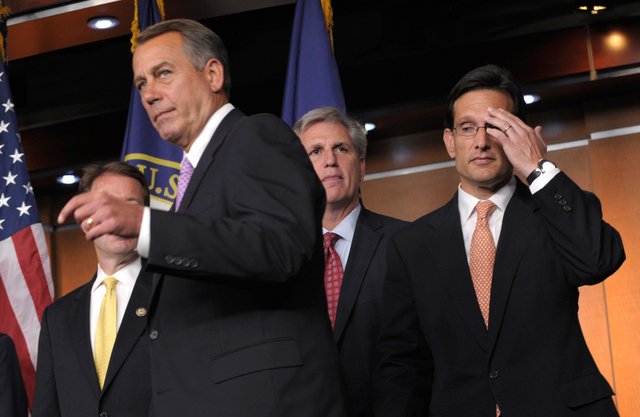 By Sean Lengell-The Washington Times
Amid the uncertainty and bickering over how to raise the debt limit, congressional Republicans are pushing ahead with balanced-budget proposals that could further complicate — or serve as a key bargaining chip to — a final deal.
House GOP leaders have scheduled a vote next week on a bill that calls for a balanced-budget amendment to the Constitution. Senate Republicans, who last month proposed a similar measure, also hope for a floor vote on their version next week.
While Republicans overwhelming back the measures — which would require the support of two-thirds of each chamber of Congress — the proposals face stiff Democratic opposition.
But Republican leaders have suggested a balanced-budget amendment could be part of a compromise with Democrats and President Obama to raise the nation's $14.3 trillion debt ceiling, saying it would be counterproductive to do so without also taking steps to rein in spending.
"The balanced-budget amendment does just that," said House Majority Leader Eric Cantor, Virginia Republican. "It accomplishes what we want, which is to change the system and finally begins to get the fiscal house in order."
Republicans say a balanced-budget amendment is a necessary component of an overall strategy to curb government spending and reduce the nation's ballooning debt and deficit.
"The amendment that we vote on next week, frankly, it's just common sense," said House Speaker John A. Boehner, Ohio Republican. "It says the government can only spend what it takes in, and places real limits on the ability of politicians to increase taxes or to increase spending."
Senate Minority Leader Mitch McConnell, Kentucky Republican, called the proposal "the single most effective way" to "get our house fiscal in order."
To read more, visit: Â http://www.washingtontimes.com/news/2011/jul/15/gop-pushes-for-balanced-budget-amendment/