GOP takes aim at 'Obama agenda' backers for 2012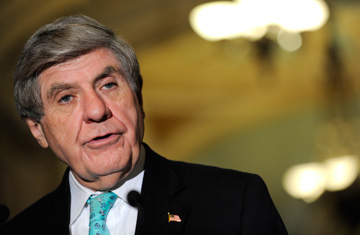 By Sean Lengell-The Washington Times
When Sen. Joe Manchin III, West Virginia Democrat, voted last week to block a Republican attempt to repeal the 2010 health care law, his action on some levels was routine. The vote was straight along party lines, and the GOP effort was viewed largely as a symbolic gesture with little chance of success.
Within hours, however, the Republican public relations machine cranked into action, firing up press releases, videos and a website that attacked the newly minted senator for his vote and support of "the Obama agenda."
"Despite his many campaign promises as he sought West Virginia's Senate seat, Manchin has used his time in Washington to embrace President Obama's liberal policies," Brian Walsh, a spokesman with theSenate Republican's campaign arm, said in an e-mail to reporters the morning after Wednesday's vote on repeal of the health care law.
Although the next congressional elections are more than 18 months away, the vote served as the opening salvo of the 2012 Senatecampaigns. Republicans vow to continue to hold Democrats accountable for their support of the measure.
"Those were difficult votes" for moderate Democrats, said Steve Lombardo, a Republican pollster and president of the Lombardo Consulting Group. "The [Democratic leaders in the Senate] needed their votes, and they got them. But now they'll pay some political price."
Mr. Manchin, elected in November to fill the seat of the late Sen. Robert C. Byrd, a Democrat, isn't the only moderate Democrat up for re-election in 2012 who could face a Republican-induced backlash for support of the president's health care initiative. Other likely targets include Sens. Ben Nelson of Nebraska, Bill Nelson of Florida, Claire McCaskill of Missouri and Jon Tester of Montana.
Ben Nelson, in particular, has been hammered by Republicans since his initial support of the measure in late 2009.
Mr. Nelson, like many other moderate Democrats, said he doesn't support scrapping the entire law but would consider tweaking or even repealing some of its provisions, including the "individual mandate" that will require most Americans to have health insurance or risk a penalty.
Mr. Nelson's tactic could be enough to placate voters and keep them in office, especially if public concerns about the law fade over time, some political specialists say.
To read more, visit: http://www.washingtontimes.com/news/2011/feb/6/gop-takes-aim-at-obama-agenda-backers-for-2012/