Harry Reid lets 2012 Democrats off the hook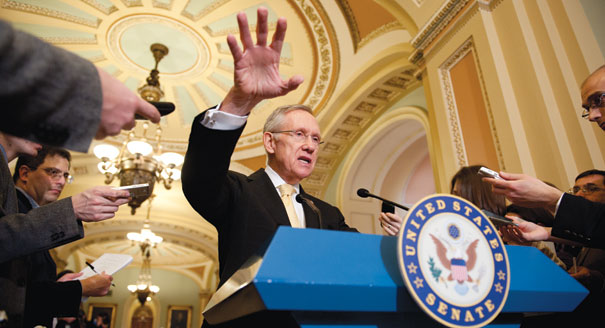 By MANU RAJU, Politico
Over the past couple of weeks, Sen. Joe Manchin (D-W.Va.) has railed against an increase in the debt limit, slammed his party on the budget and blasted President Barack Obama in a floor speech.
It's all music to the ears of Democratic leaders.
"I don't see that as an attack on the president; I think that's just Joe Manchin," said Washington Sen. Patty Murray, who as chairwoman of the Democratic Senatorial Campaign Committee is trying to get Manchin reelected.
Manchin's freelancing is part of what's driving the Senate these days. Majority Leader Harry Reid (D-Nev.) has given politically vulnerable Democrats license to do almost anything they need to survive a grim political environment, even if that means ripping the president, voting against Democratic bills and teaming up with Republicans to appear bipartisan. For Reid, it seems that, at this point in the election cycle, keeping his imperiled majority after 2012 is a far more important goal than preserving party unity on legislation.
In the opening months of the new Congress, Reid and his leadership team have given enormous attention to the 17 Democrats and one independent who are still running for reelection, bringing their amendments to the floor, spotlighting their work at news conferences and allowing them to take the lead on legislation certain to generate positive headlines back home.
The episodes span the gamut — whether it's Reid pushing to highlight Ohio Sen. Sherrod Brown's work to help homeless veterans, Michigan Sen. Debbie Stabenow emerging as a lead voice seeking to kill an unpopular reporting provision in the health law or Nebraska Sen. Ben Nelson's effort to shave 5 percent from Senate office budgets.
Even on some politically contentious votes, there hasn't been much effort to whip skittish 2012 senators into line. When the Democrats put forward their budget proposal earlier this month, Reid lost five Democrats and one independent who are expected to run for reelection next year. The defections opened up Democrats to GOP charges of pushing forward a bill that couldn't even pass muster with the moderate wing of their caucus.
But in reality, it allowed the disloyal Democrats to tout their independence back home.
Unlike their House counterparts, Senate leaders typically have far less ability to impose their will on their members, given that the rules grant individual senators vast power to shape and thwart legislation. That means senators can take a high-profile role on virtually any issue they want, regardless of whether they're up for reelection or have the support of their leadership.
Still, Pennsylvania Sen. Bob Casey said Democratic leaders are "absolutely" working behind the scenes to help incumbent Democratic senators find ways to stand out and highlight their agendas.
To read more, visit:Â http://www.politico.com/news/stories/0311/51776.html#ixzz1HQBTl4yz