Hecklers Boo Chris Christie At GOP Event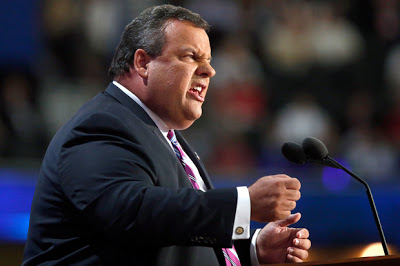 Protesters who came all the way from New Jersey to Des Moines, Iowa to lodge a protest against their state's governor, Chris Christie, were thrown out of Saturday's Iowa Ag Summit after they yelled that Christie hadn't done enough to help victims of Hurricane Sandy.
Organizers of Saturday's Iowa Ag Summit warned audience members that they would be escorted out if they caused a scene. Police quickly tossed the pair, including Lisa Stevens, whose sign claimed 'thousands of families' were still displaced from their homes.
Joe Mangino, a man standing with her, barked, 'I will NOT shut up!' Christie had told an activist in October at a Belmar, New Jersey town hall meeting about post-hurricane rebuilding to do just that.
'My people follow me everywhere,' Christie quipped to event organizer Bruce Rastetter as the protesters were marched to the exit and hundreds applauded.
'I'm magnetic, Bruce,' he said. 'They can't stay away from me.'