Helsinki update: Russia ready 'to charge' US officials for financial 'crimes'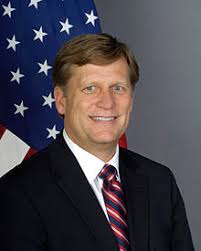 Russia wants to charge former Ambassador Michael McFaul and several U.S. intelligence officials with financial crimes, Russian officials revealed Tuesday.
Russian President Vladimir Putin broached the topic during his summit with President Trump, when he offered to allow Special Counsel Robert Mueller to attend the questioning of Russian spies accused of conducting cyberattacks against the Democratic Party in 2016.
In exchange, Putin's team wants to question McFaul and at least three National Security Agency officials in connection to a case involving Bill Browder, a hedge fund manager who has led an international effort to impose sanctions on Russian officials implicated in human rights abuses.
"We're ready to send another request to the U.S. authorities to grant us permission to question these very employees of the U.S. intelligence agencies, as well as a number of other U.S. government officials and businessmen, in order to charge them for the crimes committed by Browder," said Alexander Kurennoy, head of the Russia's Office of Prosecutor General's Mass Media Department, per the state-run Sputnik News.