Hillary Has 'Blood On Her Hands'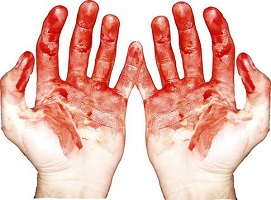 'I think there was blood on her hands,' Poole told Daily Mail Online, referring to Clinton's handling of an Islamist terror group's military-style assault that laid waste to a State Department facility.
It seems like she wants the job more than she would be good at it.
Dartmouth College student Robert Stackhouse on Hillary Clinton's presidential ambitions
He said he believes Clinton's performance before, during and after should disqualify her from holding higher office. 'I definitely do,' he said. 'It shows how she acts under pressure.'
Like most of his classmates, Poole was born during Bill Clinton's second term as president. Team Hillary is carefully cultivating his generation's progressives and moderates, emphasizing her grandmotherly listening skills while papering over her liabilities. Poole said he knows why Clinton isn't emphasizing her eight years as a presidential spouse.
'It almost seems like she tried to use the position of first lady to nudge her way into possessing political power,' he mused, dropping hints about her 'Hillarycare' medical insurance overhaul proposal.