Hillary's Emails Allowed Clinton Foundation Donors To Get Favors On A 'Global Scale' [VIDEO]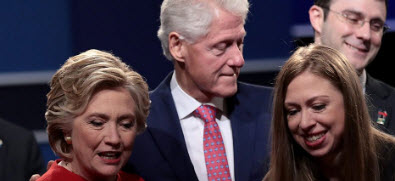 When President Barack Obama asked Democratic nominee Hillary Clinton to be his secretary of state in 2009, "everybody was concerned by the obvious fact that America's chief diplomat, who charts our foreign policy with foreign governments … is taking all this foreign money" for her family's foundation, says Peter Schweizer, author of "Clinton Cash."
In this second exclusive video interview for The Daily Caller News Foundation, the best-selling author discusses the bipartisan scrutiny the Clintons got in January 2009 for taking foreign money for private gain.
So, when Hillary pledged extra disclosure and transparency to the Senate Foreign Relations Committee — then chaired by John Kerry — the Obama White House, and government ethics officials, it now appears she just lied to them all, says Schweizer.
Schweizer finds it "mind-boggling" that Hillary lied to Obama. He set out the specific conditions for her being secretary of state so as not to impugn his administration's integrity and campaign promises on transparency. Instead, she created "the impression in a way that Barack Obama was working for the Clintons, not the Clintons or Hillary was working for him."
Today, Schweizer connects the dots in this captivating interview between his 2015 research, the revelation of Hillary's controversial private server, the WikiLeaks and Judicial Watch emails, and her effort to destroy thousands of emails.