Holder celebrates MLK, recalls his values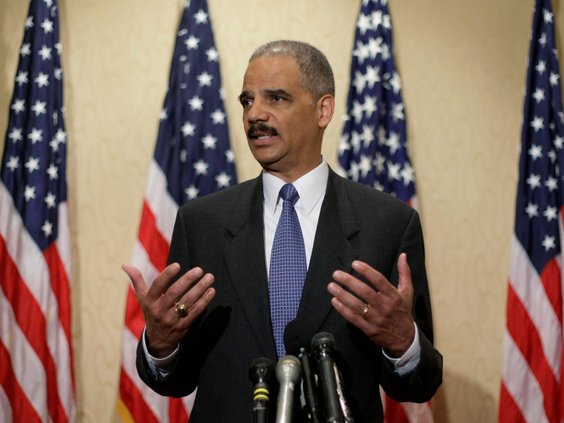 By Jerry Seper-The Washington Times
The nation's top law enforcement official Sunday described the shooting earlier this month of an Arizona congresswoman as part of a "senseless rampage" that reminds all Americans that "our long struggle to end suffering, to eradicate violence and to promote peace" continues 40 years after the assassination of Martin Luther King Jr.
Celebrating what would have been King's 82nd birthday during a speech at the Ebenezer Baptist Church in Atlanta, Attorney GeneralEric H. Holder Jr. said as the nation mourns for those who were lost and prays for those now fighting to rebuild their lives, "let us recommit ourselves to carrying on Dr. Kings work and to honoring the values that were at the center of his life: tolerance, nonviolence, compassion, love and, above all, justice.
"Here, in the church that Rev. King called his home, and in houses of worship across America — his spirit lives," Mr. Holder said. "His memory continues to inspire us. His legacy continues to guide us. And his words still have the power to teach and to comfort us."
Mr. Holder said that throughout King's life — even in times of difficulty and despair, and of anger and anguish — he kept faith with these values.
"Now, we must have faith in their power — not only to heal fresh wounds and long-standing divisions, but also to fuel tomorrows progress," he said.
Mr. Holder, the first black to hold the office of attorney general, was among several high-ranking officials who accompanied PresidentObama to Arizona last week after the assassination attempt of Rep. Gabrielle Giffords, Arizona Democrat, who was shot in the head outside a Tucson supermarket. He also went with the president to the funeral services of Christina Taylor Green, one of the six people killed in the rampage.
Mrs. Giffords, who remains in critical but stable condition, was shot in the head at point-blank range as she met with constituents. She has shown encouraging signs of recovery.
Suspect Jared Loughner, 22, faces five federal charges and a possible death sentence in the fatal shooting of U.S. District Chief Judge John M. Roll and Gabriel Zimmerman, a 30-year-old aide toMrs. Giffords, and the attempted murders of Mrs. Giffords and her aides Pamela Simon and Ron Barber.
To read more, visit: http://www.washingtontimes.com/news/2011/jan/16/holder-celebrates-mlk-recalls-his-values/