House GOP leader Cantor, Sen. Coburn back Romney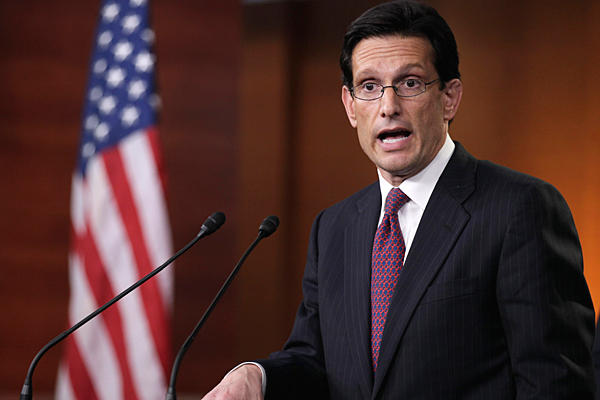 By Catalina Camia, USA TODAY
House Majority Leader Eric Cantor and Sen. Tom Coburn of Oklahoma have endorsed Mitt Romney for president, giving the GOP contender key support from prominent conservatives ahead of Super Tuesday.
Cantor, the No. 2 leader in the House, is the highest-ranking GOP leader to endorse the former Massachusetts governor. Coburn is a Tea Party favorite for his zeal in cutting federal spending.
Virginia and Oklahoma are among the 10 states that will go to the polls in two days on Super Tuesday.
"Mitt Romney is the only candidate in the race who's put forward a bold pro-growth, pro-jobs plan for the future," Cantor said on NBC's Meet the Press, adding that he believes Romney can defeat President Obama in the fall.
Coburn made his endorsement in an op-ed column today inThe Daily Oklahoman, and hailed Romney's mix of government and private-sector experience.
"He has turned businesses around, told people hard truths about what needed to be done, inspired confidence and overcome excuses," Coburn wrote. "Romney is not a career politician or a career legislator. As a former governor and business leader, he is an executive who knows how to use executive power."
Cantor and Coburn have strong support among conservatives — a group that has not fully embraced Romney's candidacy.
Romney and Ron Paul are the only two GOP candidates who qualified for the ballot in Virginia, which will award 49 delegates. Virginia and Ohio, which also votes on Super Tuesday, are key swing states in the general election.
Romney has been endorsed by a host of GOP elected officials and leaders, including such major figures as New Jersey Gov. Chris Christie and Virginia Gov. Bob McDonnell. In Congress, Sen. Roy Blunt of Missouri — a junior member of the GOP leadership team — is coordinating Romney's efforts on Capitol Hill.