House Republicans Overturn 'ObamaCare' in Symbolic Move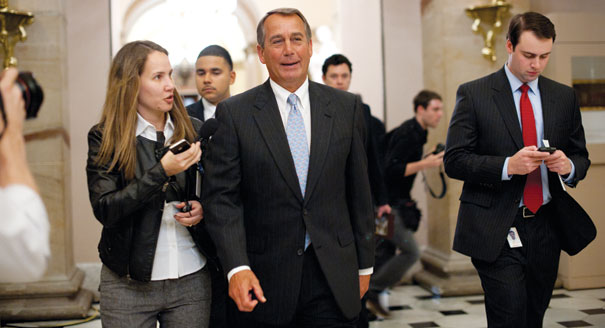 WASHINGTON — Â The newly muscular House Republicans voted Wednesday to overturn President Obama's health care overhaul — a move that is largely symbolic because the Democratic-controlled Senate is poised to ignore it while Obama is certain to veto it should it somehow pass through Congress.
The House passed the bill 245-189 with three Democrats — Reps. Mike Ross, Dan Boren and Mike McIntyre –joining the Republican effort.
Even though Democrats are certain to block the bill in the Senate, Republicans are determined to chisel away at the law through attempts to deny funding for parts of the legislation as they go into effect in the coming years.
"The Congress can do better in terms of replacing Obamacare with common-sense reforms that will bring down the cost of health insurance and expand access for more Americans," House Speaker John Boehner said Wednesday.
House Majority Leader Eric Cantor took aim at Senate Majority Leader Harry Reid, who has said he won't even take up the repeal measure in his chamber.
"I've got a problem with the assumption here that somehow the Senate can be a place for a legislation to go into a cul-de-sac or a dead end," he said. "The American people deserve a full hearing. They deserve to see this legislation go to the Senate for a full vote."
Republicans and Democrats adopted a more civil tone without angry shouts in the first debate after the shooting rampage in Arizona that left a Democratic congresswoman wounded and lawmakers of both parties stunned.
The House vote had been slated for last week as the Republicans' first order of business — a campaign promise that helped them regain the majority in the lower chamber. But action was put off after the attack on Arizona Rep. Gabrielle Giffords, who was shot through the head. She is hospitalized in serious condition, but six others who attended her meeting with constituents in Tucson, Arizona, were killed. They include a federal judge and a 9-year-old girl.
While most politicians agree that the heated rhetoric had gotten out of hand, little has changed in narrowing the deep partisan divide on such key issues as the health care reform legislation.
To read more:Â http://www.foxnews.com/politics/2011/01/19/house-poised-vote-health-law-repeal/#ixzz1BXLgyRAO